For millions of Americans, Ellis Island is the symbol of introduction, the immigrant depot that processed their ancestors and offered an opening into a new American life.
But for some, it would truly be an 'Island of Tears', a place where they would be excluded from that life. How did an island with such humble beginnings — 'Little Oyster Island', barely a sliver of land in the New York harbor — become so crucial? Who is the 'Ellis' of Ellis Island? And how did it survive decades of neglect to become one of New York's most famous tourist attractions?
Dedicated to my niece Courtney, who specifically suggested this episode.
PODCAST Listen to it for FREE on iTunes or other podcasting services. Or click this link to listen to the show or download it directly from our satellite site
CORRECTION: In the show, we mention that island namesake Samuel Ellis bought Little Oyster Island in 1784. In fact, it's possible he owned the island well before that, possibly by 1770.
___________________________________
As always, click on pictures for a bigger view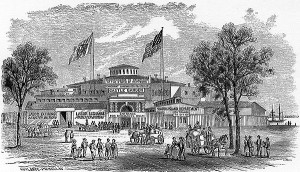 Before Ellis, there was Castle Garden, the former performance hall that became New York's immigration depot from 1855 to 1890. The building bore witness to a great influx of German and Irish immigrants, however the facilities were seen as inadequate and unsafe.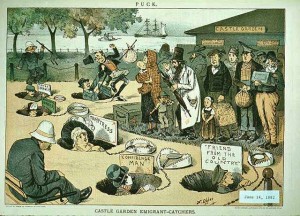 New immigrants emerging from Castle Garden would find themselves beseiged by grifters, runners and utter chaos, as evidenced by this 1882 illustration from Puck Magazine.

___________________________________
Temporary Digs: For four non-consecutive years, the Barge Office nearby Castle Garden would serve as New York's immigration depot. It would serve first in 1890-92 when the state government closed Castle Garden and the federal government was still getting Ellis Island ready. Later, after the original structured on Ellis Island burned down, immigration would return here, from 1898-1899.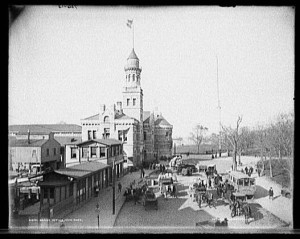 ___________________________________
The Long Way Around: New immigrants unload in front of the doors of the main Ellis Island building in 1902. Steamships would coast into New York harbor, arrive at their Manhattan dock to release their first class passengers, then pack the steerage people into a barge which would take them to Ellis. (Pic courtesy here)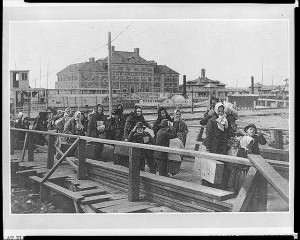 ___________________________________
Penned In: See, it really was like cattle! The registry room of Ellis Island would keep people at close quarters as officiates began the arduous process of examining everyone.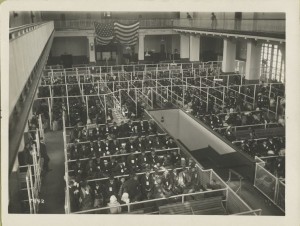 ___________________________________
OVERDRESSED? William A. Boring and Edward Lippincott Tilton gave the new Ellis Island center an elegant Beaux-Arts touch with exotic towers and limestone ornamentation. Immigrants would be greeted with a building that resembled European structures back home.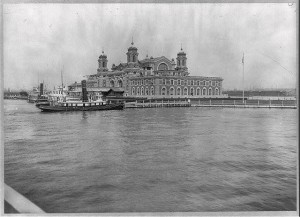 ___________________________________
Revealing: Some unfortunates who were pulled aside for further evaluation, this time for potential skin diseases. The room they are standing in is now one of several museum displays detailing the grueling experience of those who were 'pulled aside'. (Pics courtesy here.)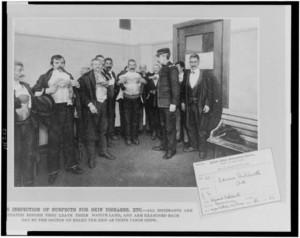 ___________________________________
The Grand Tour: President William Howard Taft goes on an inspection tour of the Ellis Island facility. The immigration center was frequently a sore spot politically, a lightening rod for restrictionists and immigrant aid agencies alike. (Pic courtesy here)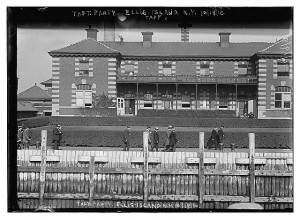 ___________________________________
Itself Excluded: Ellis Island was a mess of ruins and overgrowth by the 1970s, a victim of decades of neglect. Even the National Parks service failed to do much with it before Lee Iacocca and the Statue of Liberty-Ellis Island Foundation came along to save it.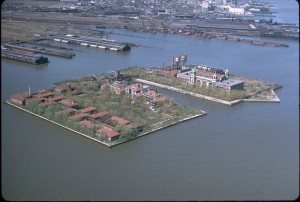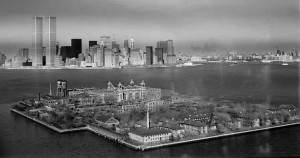 The picture below is from 1978. Most of the island is created from landfill. The buildings to the front of the image were not only hospital facilities, many of them specifically for the care of measles, a common malady of immigrant children. (Courtesy here.)

You can visit the Ellis Island website to check to see if any of your family members happened their way through the island.
And finally, Thomas Edison's 1906 silent footage of immigrants arriving at the island.

(Top pic courtesy here)