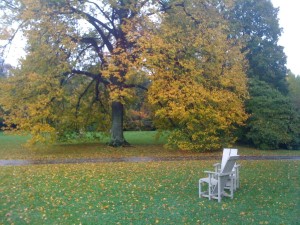 Showtime in the Hudson River Valley has begun in earnest, with the change in season transforming New York in splatters of colorful chaos. You could simply wonder a city park of course, but I again recommend New York City's two best options — the New York Botanical Garden and Wave Hill, both in the Bronx.
With Wave Hill, New York history buffs get an added bonus. Through November 29, the Lenape themed art show "The Muhheakantuck in Focus" presents abstract views of the Hudson as used by the original valley inhabitant. Muhheakantuck, "the river that flows both ways," is the original name of the Hudson River.
The show is displayed in Glyndor Gallery within one of Wave Hill's old mansion homes, although one installation by an artist named Edgar Heap of Birds presents startling glimpses of information via scattered highway signs over the campus: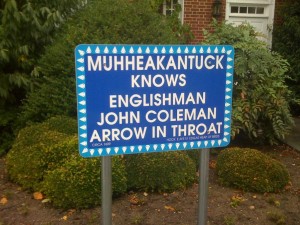 John Coleman, incidentally, was the unfortunate member of Henry Hudson's Half-Moone party. (Learn more about it in our Henry Hudson podcast.)
Speaking of fall changes, we're change up our look around here over the next couple days including some new art for the blog and podcast. We apologize now in case things get a little odd as I test out various changes.