In addition to the Saint-Michel-de-Cuxa and the Spanish apse from San Martin mentioned in the podcast, the Cloisters museum is also made up of parts of cloisters from Saint-Guilhem-le-Désert, Bonnefont-en-Comminges, Trie-en-Bigorre, and Froville — names I dared not attempt to pronounce on the podcast!
The cloister of Saint-Guilhem-le-Désert is featured in the picture which leads the post below this one. And here is a picture of the cloister from Bonnefont-en-Comminges, my favorite one actually, nearest the cafe (photo courtesy here):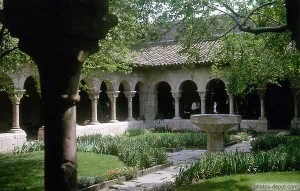 Visit their official website to see a floor plan and detailed information about their collection.