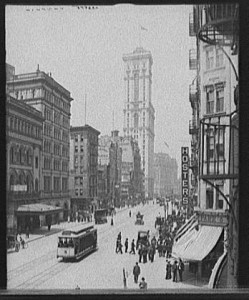 Social reformer Jacob Riis is one of the most important men to New York City history, exposing the ghastly living conditions of city tenements and using his connections to enact change that affected thousands of New York's poorest residents. In spreading the word, he wrote a social history masterpiece 'How The Other Half Lives' and innovated multi-media techniques to inform and titillate crowds. But not all of his ideas were inspired.
At the end of his life, Riis railed against corrupting influences like alcohol and their effects on poor communities. So imagine his disgust when the New York Times began sponsoring wild New Years Eve parties outside its new headquarters on 42nd Street. Inaugurated by a lavish firework display during the first seconds of 1905, the Times Square celebration eventually incorporated its famous balldrop in 1907. (Hear all about it in our
Midnight In Times Square episode.
)
As today, the outdoor celebration encourages revelry, drunkenness and chaos, things Riis did not believe benefited the city. To this extent, and with the help of former president (and good friend) Theodore Roosevelt, Riis proposed a 'safe and sane New Years Eve'.
According to Riis,
the good men of the city "have observed the licentious and riotous conduct of New Years crowds, with their tin horns, ticklers and bags of confetti. Anyone who has seen the crowds of rowdies on Broadway breaking hats and insulting women knows that a saner manner of celebration is desirable."
The new celebration will feature organized singing at various city plazas throughout the city, including City Hall, Union and Madison squares, with Salvation Army singers, organized bands and bandstands, leading 'civilized' public outcries of celebration via "the singing of patriotic songs and New Years ballads," per Riis.
It would be an uphill battle that evening of December 31, as the somber chorale of hymns and polite exaltation of the downtown rallies would be entirely drowned out by the throngs of cheers and music drifting from downtown. "
SANE FESTIVAL SUBMERGED,
" shouts a New York Times headline from the next day. "The choral hosts greeted the new year with song last night, but the songs were not heard for the very good reason that in each instance there were just enough horns, rattles and other noise-making apparatuses in the hands of the din-making contingent to render even the 'Star Spangled Banner' and 'America' unrecognizable."
Such mass city-organized, end-of-year civility would never seriously be attempted again. And Riis would only live to see one more New Years Eve, dying on May 26, 1914.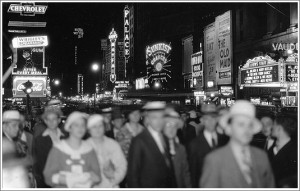 Top picture above: Time Square during the day, taken between 1903 and 1910. Courtesy LOC. Second picture, from the 1930s, courtesy Times Square NYC