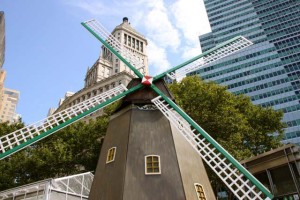 (Photo courtesy of Only In Holland)
In 2009, New York went Dutch. One hundred years ago, the city threw an elaborate party, the self-important, historically aware (often inaccurate) and undeniably prideful Hudson-Fulton Celebration, honoring the 300th anniversary of Henry Hudson sailing into New York harbor and Robert Fulton's invention of the steamship. Although we didn't go all out for the 400th anniversary of Hudson's discovery this year — we've advanced from the days of cheesy historical floats — the occasion brought the early days of New York City history yearlong recognition.
Replicas of Henry Hudson's Half Moon sailed the Hudson. New York tipped its hat to its precursor New Amderdam with NY400, a celebration that had Dutch royalty visiting a replica of an old New Amsterdam village and unveiling a permanent plaza called New Amsterdam Plein.
Museums jumped aboard with Hudson and the royals, with exhibits ranging from maps of the island's original shoreline to the display of Manhattan's official 'birth certificate'. The Museum of the City of New York's Amsterdam/New Amsterdam: The Worlds of Henry Hudson was probably the best primer for the occasion.
Of course, it wasn't just Dutchophiles in an anniversary state of mind this year. A few New York bridges (like the Manhattan and the Queensboro) coincidentally hit significant anniversaries; the Grand Concourse turned 100 years old with a celebration at the Bronx Museum and a new book.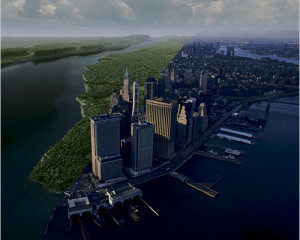 Some ventured even further back. Eric Sanderson unveiled the Mannahatta Project, easily the most exciting project for New York history lovers, taking a hearty stab at remapping the original ecology of Manhattan island, block by block. The website is hours of geeky enjoyment. I don't really have any particular award to give, but if I did, Sanderson would be New York City history's Man of the Year.
The event of the year, to me personally, was the June opening of the High Line, a raised park made from a re-purposed stretch of abandoned elevated train tracks. Those tracks have always held a great deal of mystery for me, so I was sure I was going to cringe at the results. The Meatpacking District had already been turned into luxury retailers; what horrors awaited these strange, unique structures along the west side? But the end result respects its initial allure while creating a quiet, pedestrian friendly destination. You can balk at some of the design choices, but the project as a whole is a beautiful addition to life in the city.