What started in a tiny East Village basement grew to become one of New York's most enduring summer traditions, Shakespeare in the Park, featuring world class actors performing the greatest dramas of the age. But another drama was brewing just as things were getting started. It's Robert Moses vs. Shakespeare! Joseph Papp vs. the city! ALSO: Learn how the Public Theater got off the ground and helped save an Astor landmark in the process
PODCAST Listen to it for FREE on iTunes or other podcasting services. Or click this link to listen to the show or download it directly from our satellite site
___________________________________

Looking down over both Delacorte Theater and Belvedere Castle. Joseph Papp didn't have much say in the construction of the theater, but he probably couldn't have asked for a more picturesque, more perfectly situation location.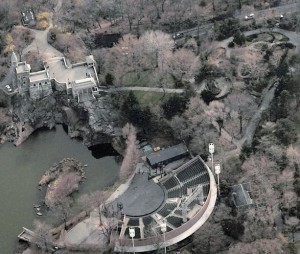 Papp at the Delacorte: within a handful of years, he was able to tranport his vision from a basement in an East Village church to the world's most famous park. Not without a few speedbumps, however…. (pic courtesy New York Public Library)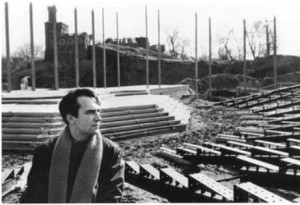 Robert Moses had been one of New York's most powerful men for almost 30 years by the time he confronted the Shakespeare Festival. At first a supporter of the outdoor program, he soon turned on Papp and refused his permit to perform in Central Park.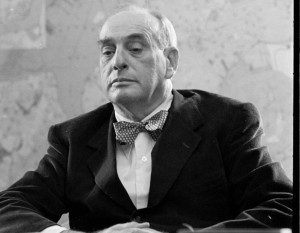 One of several performances of Hamlet, this one from 1964, starring Julie Harris and Stacy Keach.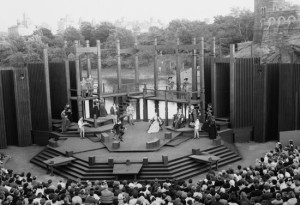 If I could take a time machine back to see one show, it would probably be the 1964 version of Othello with a spry James Earl Jones in the title role.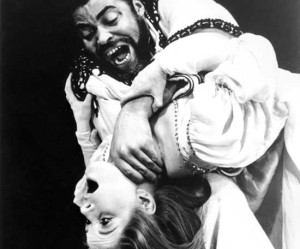 The old Astor Library, built over a hundred years before the Public Theater made it home. Our New York Public Library podcast details how the volumes once stored at this Astor institution were used to build the collection for the new public system.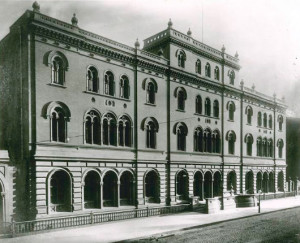 From the 1972 production of the musical version of Two Gentlemen Of Verona, starring Public Theater regular Raul Julia. Like many Delacorte productions, Verona went on to play Broadway and win Tony Awards. Papp is kneeling far left. (Pic courtesy
Papp with actor Eli Wallach in 1983. With the Shakespeare festival and later with regular programming at the Public Theater, Papp was able to draw New York's finest actors and cultivate new stars in the process.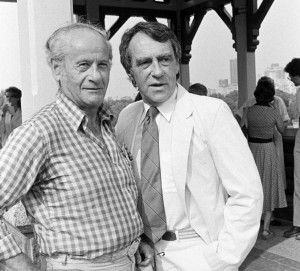 Patrick Stewart rehearses for the 1995 version of The Tempest.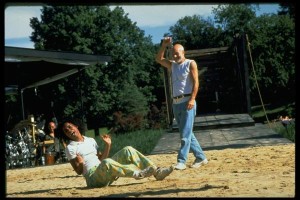 The winding ticket line, quite a treat on a lovely day (and less so when it's not). These days, for those who can't or don't wish to wait, there's a limited virtual line as well. (Pic courtesy Flickr)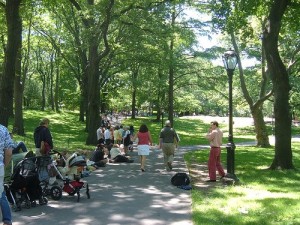 Visit the Public Theater website for more information about upcoming shows and how to get tickets. They also have a nicely detailed section on all their past productions.