The blog will be a little slow this week as we work on this week's podcast. I'll try and put up some regular postings starting tomorrow.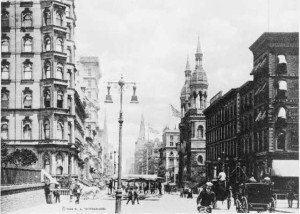 In the meantime, enjoy this 1885 view of the corner of 42nd and 5th Avenue. The fenced-in area to the left would have been the reservoir (the New York Public Libary wouldn't be completed for many years). The building across the street from it on the west side is the Hotel Bristol, which opened in 1875. (Click here for a closer view of the Bristol.)
The taller building on the right was the home of Levi Morton, once Vice President under Benjamin Harrison and former governor of New York. A couple years after this photo was taken, the six-story home would be converted into the Hotel Meurice.
One of the brownstones to the right of the photograph would have been the home of William 'Boss' Tweed. Another is owned by Richard T. Wilson, banker and early champion of horseracing.
And that fantastic turreted building one block up? That's the original Temple Emanu-El synagogue, designed by Leopold Eidlitz.
Look here for another view of this corner, from 1880.
And compare with how the area looks today:

View Larger Map
Photo courtesy Library of Congress