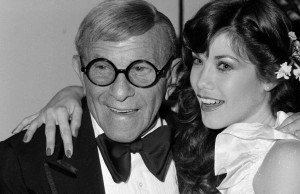 George at his 85th birthday party in 1981 [Courtesy Life]
Today is the birthday of Nathan "Nattie" Birnbaum, known to classic television audiences and "Oh God!" fanatics as George Burns. Born to Romanian immigrants, Nattie grew up on Rivington Street in the Lower East Side, first at 230 Rivington Street, then at 311 Rivington in his teens. Those addresses no longer exist, replaced by the Masaryk Towers apartments at Columbia Street/Avenue D.
"You know, when I look back on those days on Rivington Street it makes me realize how lucky kids are today. They've got organized playgrounds, Little League, field trips … summer camps where they have swimming pools, basketball courts, baseball diamonds and even a counselor to hand them a Kleenex in case they sneeze. When I was a kid we had none of those things. Our playground was the middle of Rivington Street.
"There was never any problem finding someone to play with because the streets were loaded with kids. In our building alone there were sixteen families, and each family had between eight and ten kids…. [T]here were so many of us we'd get mixed up and forget which family we belonged to….We'd all rush up, and my mother would stand there with the door open. When the house was full she'd close it. Sometimes I made it, sometimes I slept in the hall."
[From "Children of the City" by David Nasaw.]
Later as a young man, Birnbaum lived at 272 E. 7th Street, already a performer in the vaudeville circuit. Check out Knickerbocker Village for a look at his draft card and more info.