Above: The seemingly unchanged Trinity in 1916, already dwarfed by skyscrapers
PODCAST Trinity Church, with its distinctive spire staring down upon the west end of Wall Street, is more than just a house of worship. Over three different church buildings have sat at this site, and the current one by architect Richard Upjohn is one of America's finest examples of Gothic Revival architecture.
The church collected Manhattan's upper crust for decades and functions as one of the city's most powerful landowners. Listen to our short history on the New York institution and find out who's buried in their famous churchyards — Founding Fathers, inventors and a whole lotta Astors.
___________________________________
Clarification: In discussing the religious make-up of late 17th century New York, we failed to clarify that there were many Anglicans that already lived in the city but were not associated with the Church of England. These "English dissenters" belief systems were similar to the Anglicans but they disagreed with state meddling into religious affairs.
___________________________________
Fire Walk With Me: Below is a 19th century illustration of the ruins of the first Trinity Church, gutted in the fire of 1776 which subsequently destroyed one quarter of the entire city. The remains sat for many years undisturbed, and a second church would only be rebuilt after the British were expelled from New York. [NYPL]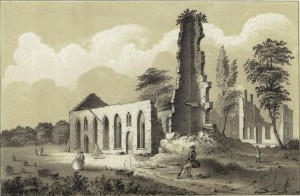 ___________________________________
Snowed In: The second Trinity church, built on the same spot as the first, sat for over four decades until weight from massive snows during the winter of 1836 weakened the roof to such an extent that the entire structure had to be demolished. [NYPL]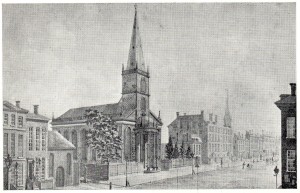 Another view of the second one (dated 1830), looking down Broadway. Trinity's distinctive spire was already considered the city's most recognizable landmark.

___________________________________
Third Times A Charm: Richard Upjohn's Gothic Revival masterpiece was the tallest building in New York from the time it opened in 1847 (the date of this lithograph) until 1890, when it was finally usurped by the New York World building. [NYPL]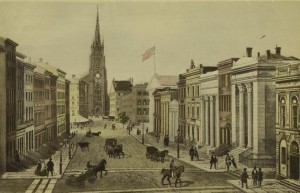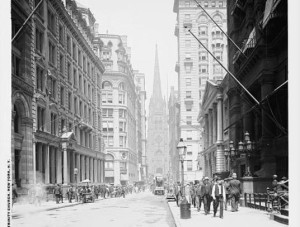 The same view, from 1903, as the city morphs rapidly around Trinity.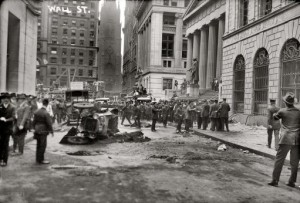 Witness to the September 16, 1920, terrorist bombing in front of JP Morgan's….

…and the World Trade Center attack on September 11, 2001. [courtesy Sacred Destinations]
___________________________________
Looking good from all sides. [Courtesy Sound Mind]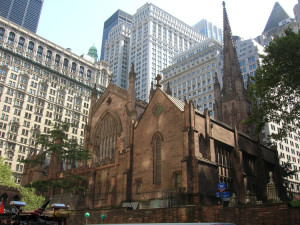 ___________________________________
Below is the Trinity Building from 1911. This is the replacement of a building that once stood here that is commonly considered New York's very first office building. That five-story building, also designed by Upjohn, stood here for about fifty years and was demolished in 1904 to make way for the Beaux-Arts beauty standing there today.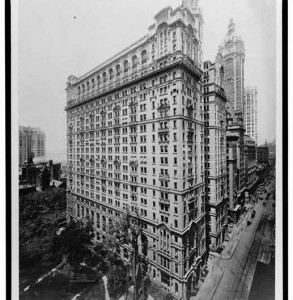 For more information, visitin the Trinity Wall Street website for information on tours and afternoon concerts. And as always, thanks to the New York Public Library for use of some of the images above.