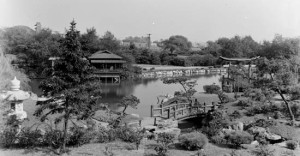 Photo by Louis Buhle (1915), courtesy of the BBG
The Brooklyn Botanic Garden is celebrating its 100th anniversay this year. Like Flushing Meadow-Corona Park in Queens, the Garden was created out of an ash dump, landscaped by the Olmsted Brothers (later of Fort Tryon fame), "for the advancement and diffusion of a knowledge and love for plants." The garden's patron saint is most certainly Alfred Tredway White, whose name you'll most likely see a few times as you wander the various gardens; White was an enlightened Brooklyn tenement owner and philanthropist who lobbied for and later helped fund the garden's creation and maintenance.
They're currently offering free weekday access to the grounds, an offer I took them up on yesterday. Obviously, the dead of winter is not the most ideal time to visit a public garden, however the greenhouses are still open, and the ice and cold provides some rather unusual natural phenomena, like the frozen brook below: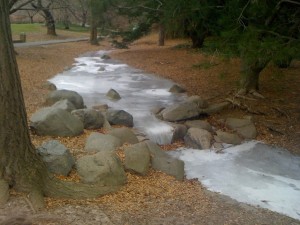 The Steinhardt Conservatory Gallery at the garden's greenhouses is currently featuring a small show of photos from the BBG's past.
Also debuting exactly 100 years ago:
— Yonah Schimmel's Knishery begins selling their famous, hearty potato treats. We highlighted them couple years ago in our Katz Delicatessen podcast.
— Jacob Gimbels opens his Gimbels Department Store in 1910 in a space originally designed by Daniel Burnham, just a block away from Macy's. Today, that department store space has the distinction of being the wretched Manhattan Mall. However Gimbels did build that spectacular copper pedestrian bridge — which is still hanging over 32nd Street.
And if you've be interested in these '100 Years Ago' columns over the last few days, you should check out a recent article in the Brooklyn Eagle — Looking Back to 1910.