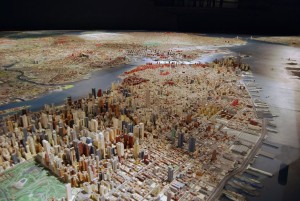 We don't have another trivia night lined up yet, but the Queens Museum is offering a fine alternative this Friday — with the glamorous Panorama of the City of New York as a backdrop.
Using the miniature replica (designed for the 1964 World's Fair), The Panorama Challenge is geographical trivia night, so polish up on your obscure Manhattan alleyways. "Team members will be asked questions ranging from easy to tricky as game controllers assist by highlighting landmarks, bridges, neighborhoods and other sites with laser pointers." Laser pointers, people!
Hosted by the The Levys' Unique New York, plus there's beer by Brooklyn Brewery! At the Queens Museum in Flushing Meadows Corona Park, 7-10 pm. More information at the Queens Museum website.
Thanks to Jon on our Facebook page for the tip.
UPDATE: Due to Thursday's snow/rain fiasco, the trivia night moves to Friday, March 12.
Visit the Queens Museum website for updates.
Below: a view of the 1964 World's Fair on opening day, photo by George Silk (courtesy here)