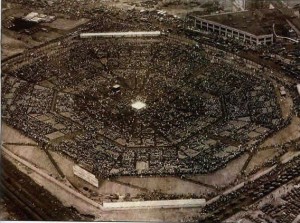 A packed house at MSGBowl on June 21, 1932, turning out for a prizefight between Max Schmeling and Jack Sharkey Picture courtesy Awesome Stories
There was so much to speak about during the Madison Square Garden podcast that we didn't have time to mention that, for a brief time, the borough of Queens once had its own Madison Square Garden — one that spawned a 'cinderella' sports legend.
Situated in Long Island City, the Madison Square Garden Bowl was a roomy Depression-era spinoff of Tex Rickard's midtown Manhattan branch, built in 1932 at 45th Street and Northern Boulevard, an immense outdoor stadium that could seat up to 72,000 people. It was not a regular venue but instead hosted big-ticket events during the summer. The Bowl cost the Garden only $160,000 to build, designed for high capacity if not longevity.
It may not have exactly been a popular place among name boxing stars. Sometimes referred to as the 'Jinx Bowl' or 'The Graveyard of Champions', reigning champs who boxed here frequently lost, heavyweight championship titles regularly changing hands here. "It was the arena where champions went to die," according to author Jeremy Schaap.
People were willing to pay up to $25 for ringside seats because of the talent sparring in the ring, including Max Baer, Joe Louis, Henry Armstrong, and (most famously) James Braddock, aka 'Cinderella Man'. A depiction of the Bowl naturally pops up in the Russell Crowe film 'Cinderella Man' about Braddock.
The Bowl hosted more than boxing, famously hosting several vigorous "midget auto races" (that's like NASCAR for really small cars). "They had these midget auto races there and a lot of times the fumes of whatever it was they used to keep 'em going would spill through the entire neighborbood," recalled Yankees legend and neighbor Whitey Ford. "If the wind was blowin' the right way, we could get asphyxiated in our apartments if we didn't keep the windows closed."
During World War II, the arena saw little use, and Garden management soon gave up on it entirely, tearing it down in 1942, to be replaced with a mail depot for the U.S. Army. At some point that too was ripped down. As you can see, the area remains singularly unexciting today.