Augustus Saint-Gauden's Diana twirling overhead on the second and arguably greatest version of Madison Square Garden
Madison Square Garden is certainly the recognizable name in arena entertaining, hosting Rangers and Knicks games, concerts, even political conventions. But it inherited that reputation from three other buildings which also called themselves 'Madison Square Garden'.
The first, inspired by P.T Barnum and a popular bandleader, staked its claim in the hottest area of New York in the 1870s. The second, a classic designed by the city's most famous architect, featured both trendy new sports and high society events. The third Garden, moving up town, stripped off the glamour and helped make the Garden's sporting reputation.
We'll also tell you about the most famous event to ever happen in any Madison Square Garden — a shocking and brutal murder which led to the 'trial of the century.
Pre-Garden: It was all Barnum, with his spectacular tented Roman Hippodrome.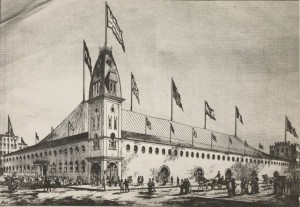 Madison Square Garden I, built for William Kissam Vanderbilt, grandson of Cornelius Vandebilt. Click for larger view. Photo courtesy NYPL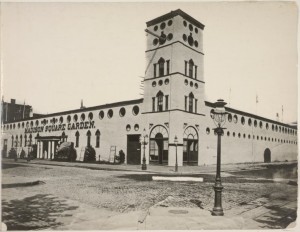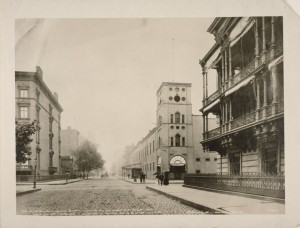 Madison Square Garden II, designed by Stanford White, studded with towers, weathervanes, grand arches and other Moorish touches. (Courtesy NYC Architecture, also a good place to find more information about the building's design)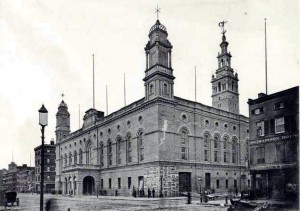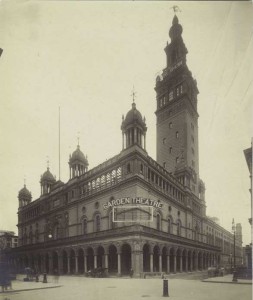 The two beauties of Madison Square Garden. The first, Julia Baird, was the model for Diana. Her nude exploits in its creation cause quite a fervor in the press.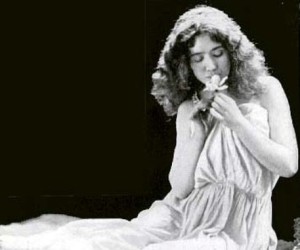 The tragic, beautiful Evelyn Nesbit, caught up between a powerful man and an insane spouse. Read here for an in-depth look at the murder and trial of Henry Thaw.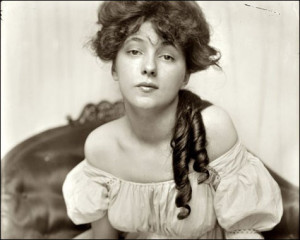 White's Garden in context with the neighborhood in 1925, the year of its demolition. This one will require you to click into the picture for greater detail to see the full effect. (courtesy NYPL)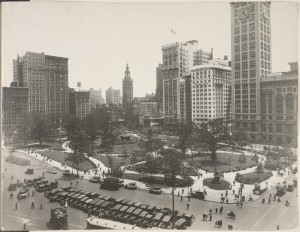 Madison II being demolished in 1925. (See full image here)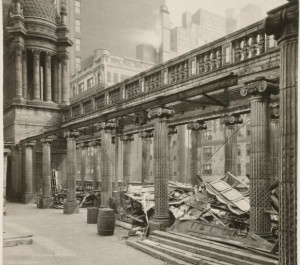 Unlike so many architectural calamities, at least it was replaced with something of equal beauty — namely the golden Cass Gilbert gem New York Life Insurance Building, looking here as though it were situated in California.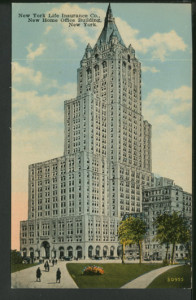 Madison Square Garden III. Why be fancy? Tex Rickard, moving the venue uptown to 50th Street, was more concerned with the entertainment inside than the flash and fancy outside. His glitz came from the lighted marquee and the big names blazing across it.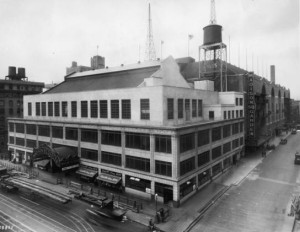 Promoter Tex Rickard, who helped form the New York Rangers and changed the sport of boxing forever with dozens of sell-out matches at his Garden.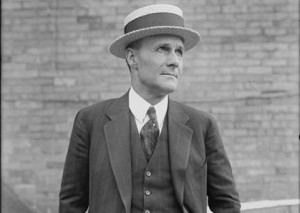 Madison Square Garden IV, designed by Charles Luckman Associates. This may surprise no one, but their other claims to fame include designing both Kennedy Space Center in Florida and Johnson Space Center in Texas. The firm also designed Los Angeles's convention center which was partially demolished over a decade ago to make room for the Staples Center. (Pic from New Penn Station)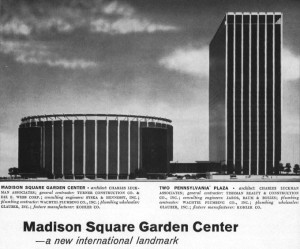 Although I can't say it's aging well, the current MSG will have officially outlasted all others in a couple years. Photo courtesy here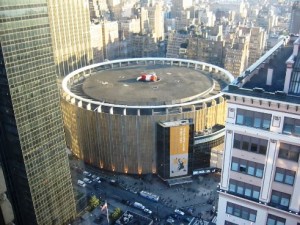 However, with the exception of Fashion Week, there may not be a fancier, more celebrity-laden row of seats than courtside during a Knicks game (below, Spike Lee, Michael Jordan and Ahmad Rashad, 2008).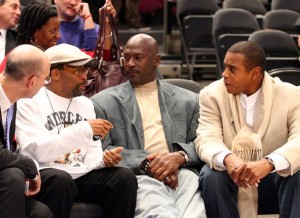 For more information on special events, visit Madison Square Garden's official website.
Finally, some great events hosted by Madison Square Garden. First of all, some pro-wrestling from January 30, 1920 at MSG II. Very rough footage, but extraordinary to watch if you have the patience.
Marilyn Monroe sings to JFK on his birthday (and just a few months before her death) at MSG III.

Elvis Presley in 1972, during one of his last performances here, at MSG IV