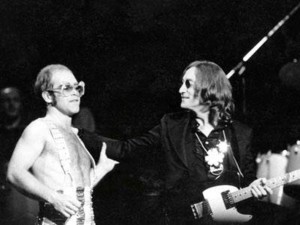 STARS OF MADISON SQUARE GARDEN: Elton John and John Lennon
LOCATION: MSG IV
John Lennon's last stage performance ever took place on 1974 at Madison Square Garden, and he only did it because he lost a bet.
Elton John, an up and coming young star fresh from the successes of his album Goodbye Yellow Brick Road, collaborated with the Beatles icon on the Lennon single "Whatever Gets You Thru the Night," providing piano and background vocals. As legend has it, Lennon was incredulous that the song would have mass appeal and agreed to perform with Elton in concert if the song hit number one.
Appearing on Lennon's album Walls and Bridges, "Whatever Gets You Thru the Night" did indeed hit #1 on the charts — the only Lennon solo track to ever reach that spot.