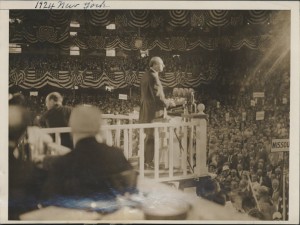 STARS OF MADISON SQUARE GARDEN: John W. Davis
LOCATION: MSG II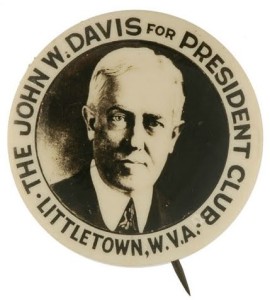 Both the Republicans and Democrats have held presidential nomination conventions here at Madison Square Garden, and with some success. The Republicans, in their only New York convention, re-nominated George W. Bush here in 2004. The Democrats propelled both Jimmy Carter and Bill Clinton from MSG conventions, in 1976 and 1992, respectively. (They also re-nominated Carter here in 1980, but we won't talk about that.)
All these triumphs have been in the current Madison Square Garden, the one opened in 1968. But the second Garden, the one from 1890, hosted just one convention, but boy what a doozy. And after all the drama, they produced one of the most forgettable political candidates of the 20th Century — John W. Davis.
Davis was not a horrible candidate, per se; born in West Virginia, the dignified Davis practiced law in New York and served as the US ambassador to England. He was a staunch old-school conservative with somewhat centrist opinions on race, eventually making him a safe choice in Prohibition-era 1924. In fact, nobody truly wanted him.
The real battle at the Garden convention, held June 24 to July 9, was between Woodrow Wilson protege William Gibbs McAdoo and New York governor Al Smith. At issue was the rise in the South of a revitalized Ku Klux Klan who garnered some support in the conservative wing of the party. Also not helping matters — Al Smith was Catholic and obviously taking all his orders from the Pope (claimed the racist organization).
The battle between factions on the Garden floor were ferocious, Smith taking the progressives, McAdoo receiving support from the conservatives. (Peter Carlson of the Post calls the conflict representative of "the two sides of America's cultural divide — what today's TV yappers would call the red states and blue states.") After the first vote, McAdoo was in the lead; John W. Davis was SEVENTH. A candidate needed two-thirds of the vote to be declared the nominee.
By the 20th vote or so, candidates were weeded out, but McAdoo and Smith were still battling for the lead. Davis had now moved to third position. With deals swiftly being made on the convention floor, handshakes and whispers gradually shifted the vote over the course of literally dozens more vote calls — and over the course of two weeks — with the lead gradually shifting from McAdoo to Smith. But still, no consensus, no two-thirds. Deadlock.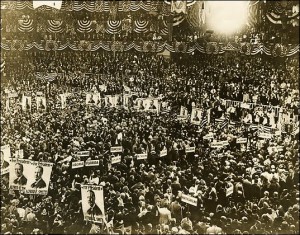 Things were getting out of hand, with demonstrations and fistfights breaking out. Not even Franklin Delano Roosevelt delivering the now famous 'happy warrior' speech, in support of Smith, clarified matters. Inflaming matters further was the fact that this was the first political convention broadcast on the radio. Americans must have thought politicians mad.
Davis, consistently in third place, suddenly became something of a compromise; while conservative, he openly reprimanded the KKK. Most importantly, for McAdoo supporters, he wasn't Smith, and for Smith supporters, vice versa. After 103 ballots, Davis became the nominee. And was promptly destroyed in the election that following November by incumbent Calvin Coolidge. Coolidge even beat Davis in New York City.
Incidentally, all political conventions held in New York have taken place at some version of Madison Square Garden, except for one. In 1868, Democrats were so firmly in the grasp of Tammany Hall that, heck, they just decided to have the convention there, at their new headquarters on East 14th Street. The boss of Tammany at the time was, of course, Boss Tweed; the candidate? Horatio Seymour, like Smith, a governor of New York. (He lost to venerated war general Ulysses S. Grant.)
TOP Photo courtesy University of Mississippi, and check out their great site on presidential elections