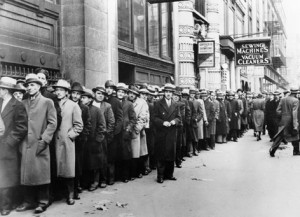 Above: An unemployment line in November 1933. The O'Brien administration offers no relief to the city.
KNOW YOUR MAYORS Our modest little series about some of the greatest, notorious, most important, even most useless, mayors of New York City. Other entrants in our mayoral survey can be found here.

Mayor John Patrick O'Brien
In office: 1933
There's not much to say about New York mayor John P. O'Brien that's very positive. He's one of the most forgettable mayors of the 20th century. But I haven't forgotten!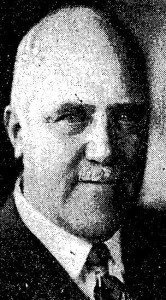 His obscurity is partially due to his length of term; he was mayor for only a year. But thank goodness. He was the last pure mayoral puppet of Tammany Hall. His blandness is further accentuated by the fact that his duration of mayor is sandwiched between that of the debonair Jimmy Walker (1926-1932) and the reformer Fiorello LaGuardia (1934-1945) — two men of great charm and strong personal narrative.
What makes his mediocrity less than humorous is the fact that O'Brien governed the city during the pitiful year of 1933, the last truly disastrous year of the country's greatest depression, a year when the nation's unemployment rate actually hit 25%.
His predecessor Walker was a political illusionist, known more for his style than his substance. He hypnotized the city while keeping its corrupt, ineffective infrastructure churning. When no-nonsense, progressive judge Samuel Seabury exposed widespread malfeasance in the New York legal system, all roads eventually led to 'Beau James', who resigned in September 1, 1932. [More in the Know Your Mayors entry on Jimmy Walker.]
In the wake, Walker's deputy mayor Joseph V. McKee was declared temporary office holder until a special election could be hastily prepared to find someone to complete Walker's term. Normally, such wholesale exposure of corrupt Democratic leadership would have assured their immediate ouster at the polls; however, the anti-Tammany forces had yet to properly gel when the special election took place two months later in November 1932 — and the political machine was able to squeeze in one more elected representative.
Below: New York in 1933, and it's not pretty. Men selling their possessions on the street.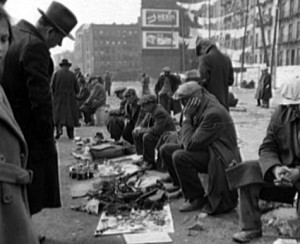 John O'Brien, a lawyer of some renown, was known as a quiet but obedient public servant. ("Loyal and industrious" according to Allan Raymond.) The man was stiffer than stiff, a devout Catholic who wore his holy medals everywhere, even on gym clothes. Born to Irish immigrants in Massachusetts in 1873, O'Brien graduated from Georgetown, moved to the city, and moved into and up through the ranks of the Democratic machine to become Corporation Counsel in the early 1920s. (A nice description of what the Counsel is can be found here.) He was later appointed a New York Surrogate Court judge.
As deputy mayor, McKee was merely a fill in. Even at veiled gestures that McKee would cut wasteful city jobs was too much for the liking of Tammany leaders, who often filled those very jobs. Also McKee was also from the Bronx. That will never do!, cried party leadership.
So they went hunting for a more malleable choice, and found O'Brien. With opposition scrambling for a real candidate for the full election a year later, O'Brien handily won the special election on December 1932, double the votes of his inept republican competitor, former Brooklyn borough president Lewis H. Pounds.
"Square jawed" O'Brien went right to work — doing virtually nothing. Despite being in the midst of the Great Depression, little was truly accomplished. Even if he had wanted to do something — and there is no evidence he did — he was so beholden to his Tammany Hall masters that he had little latitude for change. Those jobs he did eliminate were those least interesting to his Democratic overlords, namely school teachers.
He did secure a agreement with private banking firms to continue loaning to the city until 1937, so long as the city stopped raising real estate taxes. This balm merely disguised a rueful out-of-balance city budget that would weigh heavily upon his successor. Even worse, emergency relief funds from the federal government (what we would call 'stimulus money' today) was re-routed to the pockets of Tammany rank-and-file, dispersed almost at random instead of places in the city of greatest need.
Below, midtown Manhattan in 1933 (Pic courtesy Shorpy)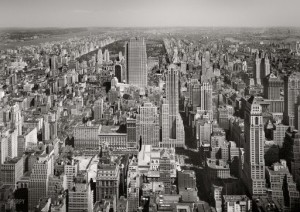 By design, O'Brien was selected in contrast to slick party hound Jimmy Walker. Unfortunately this also meant that the party was over, that "a pious, laborious dullard" occupied City Hall, "a hack given to malapropisms," according to George J. Lankevich.
To African-American crowds in Harlem, O'Brien proclaimed proudly, "I may be white but my heart is as black as yours." To Jewish constituents, he herald the talents of 'that scientist of scientists, Albert Weinstein."
Even worse, he was apparently not bright enough to disguise the Tammany strings affixed to his back. Famously (in fact, it's the soundbite he's most known for), O'Brien, when asked by the press who New York's new police commissioner would be, replied, "I don't know. They haven't told me yet." D'oh!
By the end of his term, O'Brien had wasted any shred of credibility he might have had. Yet Tammany stuck with him going into full election in November 1933. A fusion coalition of Republicans and anti-Tammany Democrats had the upper hand going into the election. Their first pick for mayor was young parks commissioner Robert Moses (who called O'Brien "a winded bull in a china shop.") Moses was considered too divisive, even back then, so Samuel Seabury, revered voice of the fusion ticket, convinced party leadership to switch to a mayoral also-ran, former city alderman and house representative Fiorello La Guardia.
La Guardia had run for mayor before and lost — in 1929, to Jimmy Walker! The stock market crash had occurred two weeks before election day, and Walker was still charming. This time, however, La Guardia had the winds of reform carrying him.
O'Brien, naturally, stood no chance. In the final outcome, even former temp-mayor McKee, as a candidate for the hastily assembled Recovery Party, beat him. It was the most crushing defeat of a Democratic hopeful in decades.
The start of La Guardia's term in 1934 would usher in the beginning of the end for Tammany Hall. O'Brien, for his part, remained faithful to his party to the end, even serving as a delegate to the Democratic National Convention a few times. Having rescued his reputation by returning to law in his later year, O'Brien lived in the Upper East Side until his death there in September 27, 1951.