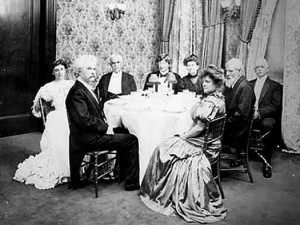 Above: Mark Twain at Delmonico's Restaurant
One hundred years ago today, Mark Twain died of a heart attack in Connecticut, famously the day after Hailey's Comet whisked by the earth.
Although obviously more known for his reminiscences of Missouri and his later life in Hartford, Conn., New York City figured significantly in his career. Twain first came to New York when he was just 18 years old and would live here at times throughout his life, contributing to various newspapers and journals. He certainly had a love-hate relationship with the city.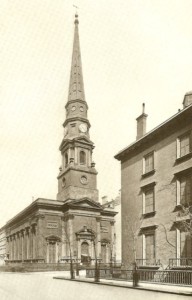 But did you know Twain's funeral actually took place here, in Manhattan, at the Brick Presbyterian Church at 5th Avenue and 37th Street (at right, pic courtesy NYCAGO)? Both it and the townhouses which surrounded it are all gone. However, the congregation built a new church at Park Avenue and 91st which still stands; the church bell within the new building is from the old structure and bore witness to Twain's funeral.
Twain's body arrived in town before noon that April 23 at Grand Central Station and was somberly escorted uptown to the church, where a crowd had gathered. Upon Twain's casket somebody had thrown a bouquet with the words: ""From one who has read 'Pudd'nhead Wilson.'"
The funeral was clearly the big event of the day. The Associate Press article reports," "Holders of tickets were admitted first. Millionaires and paupers rubbed elbows in the vast crowd that stood outside."
After a series of dramatic eulogies, thousands of people streamed by the open coffin, the writer dressed in his recognizable white coat and pants. The doors were closed at 10 p.m., and Twain's body was transported to its final resting place — Elmira, New York, a much-beloved summer respite for Twain in his youth and the place where he met his wife.
Finally, here's one humorous recollection of New York City by Mark Twain, published in a letter for a San Francisco newspaper in 1867. Who hasn't felt this way before?:
"There is something about this ceaseless buzz, and hurry, and bustle, that keeps a stranger in a state of unwholesome excitement all the time, and makes him restless and uneasy, and saps from him all capacity to enjoy anything or take a strong interest in any matter whatever–a something which impels him to try to do everything, and yet permits him to do nothing.
He is a boy in a candy-shop–could choose quickly if there were but one kind of candy, but is hopelessly undetermined in the midst of a hundred kinds. A stranger feels unsatisfied, here, a good part of the time. He starts to a library; changes, and moves toward a theatre; changes again and thinks he will visit a friend; goes within a biscuit-toss of a picture-gallery, a billiard-room, a beer cellar and a circus, in succession, and finally drifts home and to bed, without having really done anything or gone anywhere. He don't go anywhere because he can't go everywhere, I suppose."
Below: Mark Twain in a portrait taken by Matthew Brady (although I believe the photograph was taken in Brady's D.C. studio, not in New York)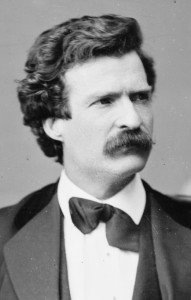 By the way, here's a pretty extraordinary tale from New York Press by Craig Fehrman about the fight to save Mark Twain's Fifth Avenue home from demolition.