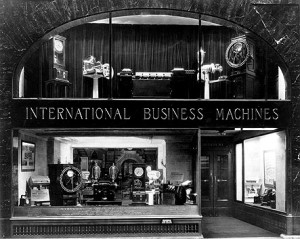 The 310 Fifth Avenue storefront of International Business Machines (IBM), back in 1927 when they sold weight scales and coffee and meat grinders. [Courtesy IBM]
The original company, the Computing Tabulating Recording (CTR) Corporation, was actually based in New York City when they changed their name to the present IBM in 1924.

My computer officially died this past weekend so there was no solo show released this past weekend. And updating on the blog will be a bit spotty for the next few days until I can get a new one. Everything should be up and running again by next week. And I will have another sizable posting this Friday. Thank you for your patience!