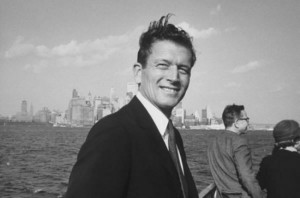 "Not only is New York City the nation's melting pot, it is also the casserole, the chafing dish and the charcoal grill." — John V. Lindsay
He famously referred to New York as a 'fun city', even as he reigned its reality, a metropolis racked with debt, riots and rising crime, a metropolis restless and energized by the changes of the 1960s. He was once called 'the worst mayor of the 20th century.' Now Mayor John V. Lindsay is getting a serious public relations boost this spring in a host of new projects.
Releasing next week is America's Mayor: John V. Lindsay and the Reinvention of New York, New York Times editor Sam Robert's anthology of essays on Lindsay. An exhibit of the same name at the Museum of the City of New York reviews the ambitious mayor's two tumultuous terms in office.
But if you can't wait for either of those, the hour-long documentary Fun City Revisited: The Lindsay Years debuts Thursday night at 8 p.m on WNET (Channel 13 in New York).
In the meantime, check out WNET's collection of the politician's earnest television advertisements, including. his re-election bid advertisement in 1969, a bitter contest in which Lindsay was rebuffed by his own party and ran as a Liberal Party and won.
And, randomly, below, find a video from 1966 of John Lindsay presenting an award — to Alfred Hitchcock