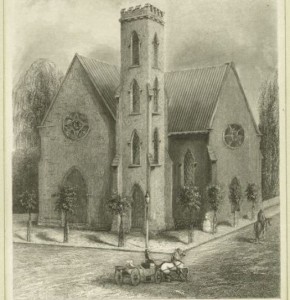 The sanguine days of the Holy Communion, pictured here over 150 years before it would be reconfigured as a shopping mall (from Booth's History of New York, mid 19th century, courtesy NYPL)

On Friday afternoon, yet another completely implausible transformation will overtake Holy Communion Episcopal Church when it reopens as the Limelight Marketplace, a spacious mall with 60 retailers sitting aside Gothic church features and the ghosts of strung-out club kids.
In honor of this curious transformation, I'm reprinting (with revisions) my history of this building and its later incarnation as the Limelight, one of the most notorious dance clubs of the 1990s. (Originally posted on Aug 10, 2007)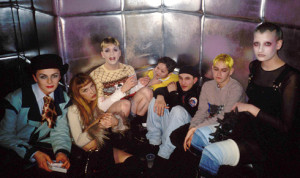 Holy Communion Episcopal Church was never meant to be the gateway to Hell. This lush Gothic style was designed and completed between 1844-1846 by Richard Upjohn, one of early America's great architects, the master of Gothic Revival style and creator of downtown's Trinity Church. It was built during a grand time for new churches in the city; in addition to Trinity (which opened in 1846), James Renwick was finishing up work that same year on Grace Church.
Upjohn designed the new chapel for its founder, the Reverend William Muhlenberg, a rector from Flushing, Queens, and known today as the founder of the Episcopal religious school movement. Perhaps the architect could foresee the church's future tilting towards the bizarre, as it's the first asymmetrical Gothic church in America. The first! Think of all the uniform symmetry in most churches over 150 years old, and you'll appreciate its uniqueness.
In its prime, the toast of New York filled its pews, including Cornelius Vanderbilt, John Jacob Astor and Jay Gould. A shadow of its altruistic days can still be seen hovering over St Luke's Hospital (now St. Luke's-Roosevelt Hospital Center), which the congregation helped found. To tie this into our podcast on the Dakota Apartments, it was in this hospital that John Lennon died of his wounds sustained at the Dakota.
A convent was added in 1854 where the "Guardians of the Sisterhood of the Holy Communion" — one of the first Anglican orders of nuns — cared for the sick and infirm, well into the new century.
The church fell upon hard times by the mid-century and was eventually sold to a drug rehabilitation center. According to a bishop at the time, there was an implicit understanding that the house of worship was always meant to help the needy. Then Peter Gatien came along, catering to a different kind of need.
Gatien was a club owner who gobbled up nightclub spaces and transformed them into branded clubs called the Limelight — first in Hollywood, Florida, then Atlanta, and London. (He would eventually own many clubs in Manhattan, including the Tunnel, the Palladium downtown, and Club USA.) The Gothic church on 6th Ave proved too enticing — the one in London was also in a former house of worship — and soon Gatien turned the once reverent spot into a house of decadence, opening on November 1983.
From People Magazine's coverage of the club opening: "Is this consecrated ground?" asked fashion photographer Francesco Scavullo nervously. "Everybody's having a good time, so I'm not putting it down," said supermodel Cheryl Tiegs, there with hubby Peter Beard. "Listen," chimed in Judy Garland's daughter Lorna Luft, "they've been dancing in churches for a long time. Now we've just got a little bass added."
The Limelight distorted Upjohn's Gothic furnishings through a funhouse mirror. Its labyrinthine hallways and stairwells spilled into ornately designed lounges and dancefloors. Old marble crypts sat next to rows of liquor bottles. The chapel became a VIP lounge. Upstairs, surrealist illustrator HR Giger, famous for his designs of the creatures from the Alien films, created a signature dance floor.
However it was its occupants that made the headlines. In the late 80s and 90s, Peter Gatien and the Limelight helped foster its own buffet of self-made celebrities, the club kid, brightly colored freakshows whose only purpose was to shock and make everybody feel smaller.
Ruler among them was Michael Alig, an extravagent promoter of both his club, his lifestyle and himself. A protege of another nightlife maven James St James, Alig's wild parties at the Limelight were the stuff of urban legend.
Actual celebrities who frequented the club, like Eddie Murphy and Michael Douglas, were no match for Alig and his menagerie, which often included a few New York celebrities around today — Amanda LaPore, Rupaul and the duo Heatherette, now legitimate fashion designers in their own right.
The avarice of the early '90s would lead to the downfalls of the Limelight's main characters. Alig would be charged with murdering fellow club kid Angel Melendez. Gatien was arrested on drug charges in 1996 — by then, the Limelight was a veritable candy store for ecstacy and 'special k' — and in 1999 for tax evasion. Alig is in prison, serving a 20-year sentence; Gatien is in Canada, presumably forever.
The Limelight itself? After a dramatic shuttering in 2001, the club was reopened under the name Avalon, and still entertains throngs craving a thumping beat and a really expensive cocktail. The club kids are gone, but ghosts remain, as do the crypts.
You can of course catch a glimpse of the decadence in the film Party Monster, about the kooky days of Alig and the Club Kids, both in documentary and Macauley Culkin-vehicle formats. Harvey Keitel also takes a visit to the club in Bad Lieutenant.