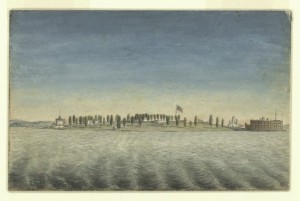 Above: Drawing of Governor's Island 185 years ago (courtesy NYPL)
New York's island getaway reopens for the summer with free live concerts, art shows, bike rentals, family activities and something by the art collective No Longer Empty called 'The Sixth Borough'. But you don't even need to have a reason to go out there; it's one of my favorite places to just plop down somewhere with a book or a picnic.
Click here for a schedule of events, but don't go without downloading one of our very first podcasts on the history of Governor's Island.
___________________________________________
And I didn't want to put this in the book roundup yesterday, but I wanted to give a big shout-out and thank you to Beth Hahn, who mentions our podcast in the forward of a volume of her new knitting book series The Adventures of Miss Flitt. It's a colorful instruction book for creating some pretty great outfits (capelets, fingerless gloves), framed with a short narrative called 'Dangerous Ladies and Opium Dens' set in the Five Points neighborhood. You can order it from her website at missflitt.com. Glad we could inspire you!