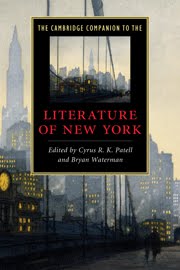 No city has been more savaged and disparaged, more exalted and varnished, than New York City — and this from the very writers who lived here. The man who exclaimed "Manhattan crowds, with their turbulent musical chorus!" also wrote, "Silence? What can New York-noisy, roaring, rumbling, tumbling, bustling, story, turbulent New York-have to do with silence?" And Walt Whitman isn't the only writer who loved to hate, and hated to love, growing New York.
The Cambridge Companion, that staple of academic compendiums focusing on specific subjects, have finally and gratefully gotten around to the literature of New York City. (Although they did hit the Harlem Renaissance a couple years ago.) The editors of the volume, Cyrus R. K. Patell and Bryan Waterman, two associate professors at New York University, have been letting non-students in on their cultural inspirations via their regular site on New York City cultural history, Patell and Waterman's A History of New York.
The "Cambridge Companion to the Literature of New York" (Cambridge University Press) takes a broad, thematic appreciation of New York's written history, looking not merely at authors based in the city, but how those writers (and those looking in from elsewhere) viewed the city and its population.
Most of the essays are lovely, bite-sized ideas focusing on a handful of written works. For instance, Elizabeth Bradley distills her recent book 'Knickerbocker: The Myth Behind New York" into a tale of New Yorkers perception of their Dutch New Amsterdam past and the devilish ways that Washington Irving distorted it. In other essays, you get sweet little snippets on the radical East Village beat scene and the ragged birth of gay and lesbian theater.
Whitman and Herman Melville get their very own takes, appropriately. Generally I preferred the narrowly defined essays to those of broader scope (like the totality of Brooklyn literary perceptions, in ten pages!), but they all work as a whole. Patell and Waterman tackle the introduction and closing essays and lead me to believe that a history of New York literature writtten by these two alone would be an even more satisfying read.
One form of literature curiously absent from the collection? The pulp and crime fiction of the 1930s and 40s. The grimy, simply written tales of gangsters, stewing the ingredients of film noir, were sold as cheaply produced paperbacks and are rarely considered true capital-L 'literature'.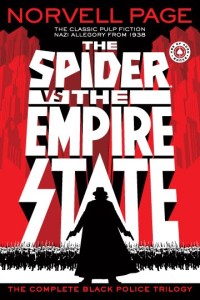 But you may rethink that after reading 'The Spider vs. the Empire State' (Age of Aces Books), a gorgeous reprint of three short novels by Norvell Page, exploring an alternate universe where New York is under siege by a vicious fascist regime.
Page wrote dozens of novels from 1933 to 1943 starring his cloaked protagonist The Spider, a crime fighter who straddled the edge of lawlessness, a character ideal that would go on to influence countless comic book writers. His novels were quick reads, set in a fictional New York state and soaked in cartoonish violence.
Most were insubstantial, breezy. But for three novels, the three collected in 'The Spider vs. the Empire State', Page created a more serious menace, a iron-handed regime called the Black Police who takes over the government of New York and wrings taxes (often by force) from the poorest citizens. Page's creation would parallel the rise of Nazi Germany, employing dark political sentiment in a literature usually devoted to the glamour of the underworld.
The story is admittedly absurd — and deathly serious, with breathless scenes of narrow escapes, machine gun fire and midnight biplane getaways, a state run by monsters and a resistance movement centered in … the Catskills! Who wouldn't want to read a book with scenes that take place at "Albany spy headquarters"? The new reprint by Age of Aces is beautifully designed and bound just in time for some beach reading.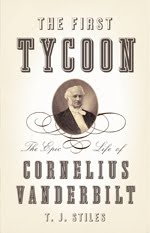 My beach reading was a tad heavier this past Memorial Day — The First Tycoon: The Epic Life of Cornelius Vanderbilt by T.J. Stiles. I'm only about halfway through but it's an amazing accomplishment, well worthy of its accolades (including this years Pulitzer Prize for biography. It's now out on paperback, so read along with me!
And finally : I don't exactly recommend this book — in fact, I thought the whole thing was borderline idiotic — but if you're an admirer of one Abby Aldrich Rockefeller, you might get a kick out of reading Angelology by Danielle Trussoni, a fantasy-tinged attempt at giving New York City its very own Da Vinci Code. Without spoiling too much, Abby decided to embed Rockefeller properties all over the city with valuable, supernatural items — items which must be reassembled to prevent menacing hoards of evil, vain and fabulously wealthy angels from getting their otherworldly hands on it!