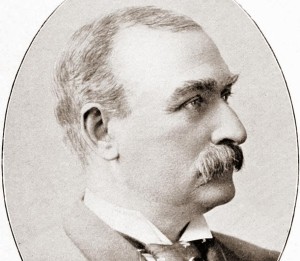 KNOW YOUR MAYORS Our modest little series about some of the greatest, notorious, most important, even most useless, mayors of New York City. Other entrants in our mayoral survey can be found here.

Mayor Thomas Francis Gilroy
In office: one term 1893-1894
When it comes to corruption, you can't get more front and center than Thomas Francis Gilroy. His political education came from the most dishonest names in public service, he was elected mayor in one of the most rigged elections in New York history, and he reigned as a mere figurehead controlled by the ruling political machine. There is little to distinguish him but for his uncanny knack of latching on to the most corrupt men in government.
But didn't he look dashing! "Gilroy was one of the most striking looking mayors this city has ever had, with iron-gray hair, a heavy mustache, a well-knit erect physique and ruddy cheeks," according to his obit.
In the alternating crests of corruption and reform in New York City government, Gilroy rose when wrong was king and kept his head low every time else. It might have been different for Tommy, as his chums called him, if not for the connections of Boss Tweed, the notorious head of Tammany Hall and the embodiment of New York machine politics.
Gilroy was a bit of a rarity for the late century, a mayor born in another country but of a nationality greatly valued by future Tammany leaders. He was seven years old in 1847 when his parents brought him over from Sligo, Ireland, just one of millions of Irish newcomers at the beginning of a mass wave of immigration that would last decades.
As a teenager, sometime in the 1850s, he began on-the-job training as a printer's devil for a young, well-known publishing company, G. Putnam Broadway*, who would produce work by Edgar Allen Poe, Nathaniel Hawthorne and most notably to Gilroy, Washington Irving. According to Gilroy: "They were getting out Irving's 'Life of Washington' [the writer's bio on George Washington] to be sold on subscription. It was a godsend for me to be in a bookstore. I read everything I could lay my hands on."
"I don't believe I was a very good servant though, for as soon as the subscription business was done, the publishers let me go." Gilroy is being modest here; he would be a most excellent servant to the political machine.
He moved onto other publishers and by 1864 had become a proofreader. It may have been through his publisher that he made his introduction with city politics, and Tammany Hall in particular. He soon moved on to a useless city job, his title 'sixth clerk to the Croton Aqueduct Department', one of hundreds of padded government jobs requiring no conceivable skills except mendacity and blind ambition.
Gilroy's home in the 1860s at the corner of Broome and Mott streets would have placed him near the epicenter of immigrant life in New York, which may suggest his usefulness within Tammany. Tommy was the boilerplate Irish American that Democrats liked in their ranks and lusted after during elections.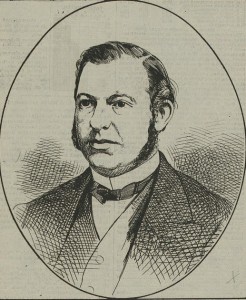 He became a confidante of Boss Tweed's in early 1870, at the height of the notorious boss's power as the city's commissioner of public works. Apparently not busy enough in his Croton Aqueduct duties, Gilroy served as Tweed's personal 'messenger', delivering the type of 'messages' one can only imagine and marvel at.
Tweed was arrested in the fall of 1871, but Gilroy had already moved on, as clerk and personal secretary to state senator Herry Genet (at right). Sometimes nicknamed 'Prince Hal', Genet was left picking up the pieces of a tattered political machine in the wake of the Tweed scandal and would himself had been shipped off to prison in 1873 on corruption charges had he not escaped from jail and fled the city. (He was eventually caught years later.)
After these associations, Gilroy kept a lower profile, but always worked within the Tammany system, damaged by the Tweed scandals. He became a Mott Haven court clerk in 1874 — the year it was annexed by New York — and observed this Bronx neighborhood grow from an industrial backwater to a tony residential area.
Below: a home in Mott Haven, circa 1890 (NYPL)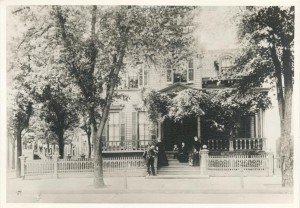 People generally have a short memory when it comes to government corruption, and by the mid 1880s, Tammany Hall was back in full swing. Gilroy took a cozy clerk job closer to City Hall in 1885, benefiting financially from the kind of kickbacks perfected by the Tweed Ring.
He was so snug with Tammany that he was chosen by Boss William Crocker to oversee the campaign of Hugh Grant, who became mayor in 1889. As a reward, Grant make Gilroy commissioner of public works — the same job Boss Tweed had once held! And just to make the parallel complete, he became Tammany's grand sachem in 1891. Make no mistake however; the man behind the curtain — behind both Grant and Gilroy's ascensions — was Crocker.
According to Oliver Allen: "There was no question that the good times were now rolling for Tammany Hall; it could hardly lose an election." Crocker decided, after two two-year terms of Grant, that Gilroy should replace him, and rigged the election to assure that victory, crushing his republican opponent Edwin Einstein. In fact, in one Lower East Side district, 389 votes went to Gilroy and three to another candidate. Croker vowed he would find out who those three voters were. (Also on the ballot that year: Grover Cleveland for president, see 1893 souvenir print below)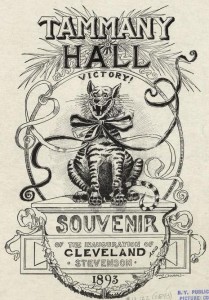 Gilroy kept things status quo, for Tammany, that is. According to Burrows and Wallace, City Hall distributed funds from "municipal employees and saloonkeepers" by city charities in need although stopped short of initiating a promised jobs program to deal with a growing unemployment rate. He rejected calls for improved public baths and additional schools, this in a decade of massive immigration swells.
Gilroy is notable only for coming in at the end of Tammany's moment of glory. He had inherited a deeply corrupted police force, so ineffective that a state commission was called in 1894 to expose the deep fissures. The Lexow Committee would eventually uncover an institutional system of "extortion, bribery, counterfeiting, voter intimidation, election fraud, brutality, and scams." All of it, naturally, inextricably tied together with Tammany leadership.
Gilroy tried desperately to turn the tide by appointing a 'bi-partisan' board of police directors, Democrats and Republicans. This paltry concession persuaded no one. By the next election, New York was a reform mood. In fact, Gilroy didn't even bother running again; after briefly putting Macy's president Nathan Straus on the ticket, the Democrats replaced him with also-ran Hugh Grant.
To no avail; Tammany's nearly decade-long reign was (temporarily) over, as gruff reform candidate William Strong won handily. (The story picks up in my article on Strong's tenure as mayor.)
Gilroy had played his last political card by this time. After a short stint as a bank president, Tommy retired to his homes, one on West 121st Street and another on Far Rockaway, where he died on December 1, 1911.
*The company still exists today as a division of the Penguin Group: Penguin Putnam Inc, frequently publishing juvenile literature