In this mini-podcast, we bring you New York's first famous writer Washington Irving and his creepy tale of the Headless Horseman. We'll tell you where you can go to celebrate his life and work, and what famous Irving landmark has nothing really to do with him at all.
Listen to it for free on iTunes or other podcasting services. Or you can download or listen to it HERE
Washington Irving was one of the first New Yorkers to make a name for himself in the international literary world. But it was a very narrow set of circumstances that allowed him to make it out of New York at all. The runt of eleven children, was ill for most of his youth; in fact, sickness would later prevent him going to Columbia University like his brothers. Under different situations a sick child growing up in downtown Manhattan might not have survived; he was, after all, born in the most volatile city in the nation, in the year the British finally relinquished New York to the new American army.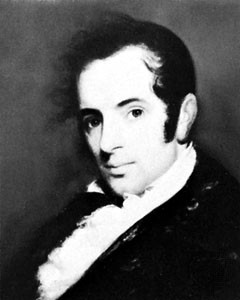 However, Washington's father William had grown quite wealthy under the British as a mercantilist. His family could more than afford the proper care; as the baby, and one needing so much care, they spoiled him. Frequently bedridden, Washington was able to read more than the other kids, sparking his imagination with such favorites of his as Robinson Crusoe and Sinbad, devouring adventure tales, fictional and true. He half-heartedly studied law, but as his older brothers took over the family business, they actually encouraged him to indulge in story-telling. Keep in mind that fiction writing was not a popular endeavor at the time; writers documented and observed, but they very rarely imagined.
Writing as elderly Jonathan Oldstyle, his penname at 19, he frequently wrote to the newspapers reviewing theatricals and sometimes the people in the audience as well: "The noise in this part of the house is similar to that which prevailed in Noah's ark; for we have an imitation of the whistles and yells of every kind of animal… Somehow or another, the anger of the gods seemed to be aroused all of a sudden, and they commenced a discharge of apples, nuts, and gingerbread, on the heads of the honest folks in the pit… I can't say but I was a little irritated at being saluted aside of my head with a rotten pippin.
Later in life he would disavow these early writings as sloppy and lazy. He was much prouder of his later works the Salmagundi (a blistering criticism of New York's upper class) and Deitrich Knickerbocker's History of New York. As mentioned in the podcast, the name 'Knickerbocker' evolved to represent the first (if fictional) clan of the city. A character called 'Father Knickerbocker' would come to represent New Yorkers in political cartoons throughout the 19th century and early 20th.
To tie today's topic with yesterday, here's a political cartoon from the 1930s featuring Father Knickerbocker (his name embroidered on his coat) lifting the lid on the festering problem of Welfare/Roosevelt Island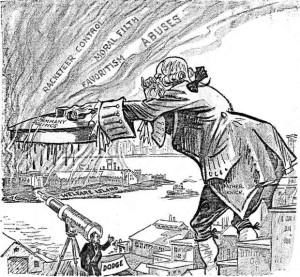 In the later part of his life, Irving made a home on the Hudson river which he called Sunnyside, living there with many members of his extended family.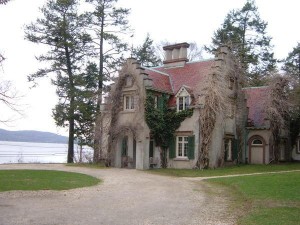 It also became quite the literary parlor, and was frequented by the likes of John Jacob Astor, whose exploits in the western United States Irving would immortalize in his work Astoria. Here's a rare engraving from 1866 of Washington Irving entertaining a group of extremely similar looking men in his parlor.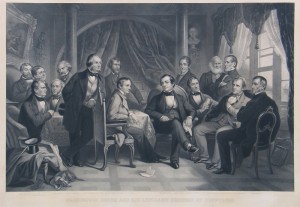 We can say with fair certainty, however, that Irving did NOT live here, 49 Irving Place (seen here in an old photograph):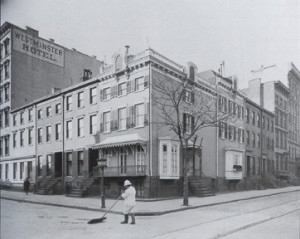 Who did live here, however might be more interesting. Elsie de Wolfe, a well known actress and soon to become New York's first professional interior decorate, resided here from 1892 to 1912 with Elizabeth Murray, a literary agent to George Bernard Shaw and Oscar Wilde. (Curiously a few years earlier Oscar ended up next door at 47 Irving Place, as he saw his latest play Vera being savaged by the critics in a nearby theater.) They were quite open romantically and their house became a high-class salon for the artistic rich and famous. Its amazing to consider these two powerful lesbians stirring up social circles at the time.
Here's Elsie reclining in her Irving-less home at 47 Irving Place. (This and the exterior shot above are courtesy the City Review from the Christopher Gray book New York Cityscapes.)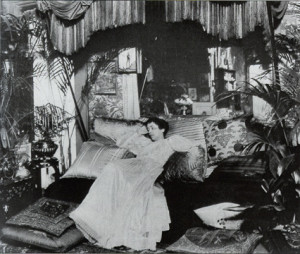 Just down a block away once stood the Irving Place Theatre, a former burlesque house and art film theater: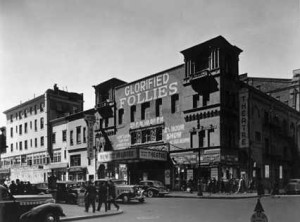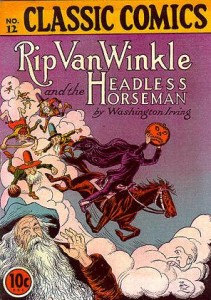 (I love how the illustrators of the comic on the left manage to combine Irving's two most famous tales, and somehow stage the whole thing in intestine-shaped clouds.)
As for the story of 'Sleepy Hollow', it was one of many short tales gathered in 'The Sketch Book of Geoffrey Crayon' that cemented Irving's status as the pre-eminent American writer. The story has been adapted in dozens of curious ways in the 20th century. A few silent film versions are known to exist, including one from 1922 starring Will Rogers as the terrified Ichabod Crane! For some reason, in 1949 the story was combined as a double feature with 'The Wind In The Willows' in a Disney animated adventure known as "The Adventures of Ichabod and Mr. Toad." Bing Crosby provides the spooky narration and the best part of the story — the chase between Crane and the Horseman — is greatly extended. The Sleepy Hollow portion proved so much more popular that Disney split it off into its own film in the 50s.
Then of course then there's the Tim Burton version with Johnny Depp as Crane, Christina Ricci as Katrina van Tassel, and as rival suitor Brom Van Brunt, an actor whose name could have very well placed him in the tale when it was first written, Casper van Dein. Burton, God bless him, completely re-writes the tale to flesh out a grim mythology. However he pays homage to the original story — as well as the Disney animated version — in a sequence where Crane is pursued by the Horseman and hid with a flaming pumpkin hurled by a costumed Van Brunt.
And finally, we end our look at Irving with an old crusty postcard image of Sleepy Hollow's greatest landmark and the central location of Irving's tale: the Old Dutch Church and its adjoining burial ground. Irving — as well as a great many other luminaries — are buried in the adjacent Sleepy Hollow cemetery. Look here to see what we wrote about the cemetery back when Leona Helmsley died.