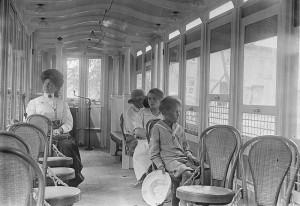 Taking their lives in their hands: riders of the City Island Monorail
On Friday's podcast, I briefly talked about the Pelham Park & City Island Railroad (or, in the parlance of the day, Monoroad), an actual monorail system, three miles in length, linking the small fishing community of City Island with the Bronx mainland. This slender and awkward looking conveyance (with its "yellow, cigar shaped car", you can see it a couple posts below), departing on its very first trip on July 17, 1910 crammed with over 100 passengers, promptly fell over, injuring dozens.
"Passengers were thrown one on top of the other on the floor, so that they lay literally in layers," according to the Times. Not helping matters, the conductor locked the doors after the accident for fear passengers would touch the electrified rail, and the injured had to be passed through a couple small, open windows.
The monorail was being piloted by its creator Howard Hansel Tunis who had trumpeted his technology of a single ground rail with two elevated (and electrified) side railings. Some in the press had seen the monorail idea as being superior to the newly build subway train. However it had taken his Monoroad financiers almost two years to raise the money, and the construction of usable track had happened hastily — and with remarkable incompetence.
The 'monoroad' was to be a technological improvement of the horsecar line that serviced the route before 1910, picking up passengers at the long-vanished Bartow Station, located in Pelham Bay Park. One hundred years ago, New Yorkers took day trips up to enjoy the small, sandy beaches of City Island; most of that beach area is unavailable for bathers today, and anyway, Robert Moses sculpted a far grander Orchard Beach out of landfill in the 1930s, a more suitable option.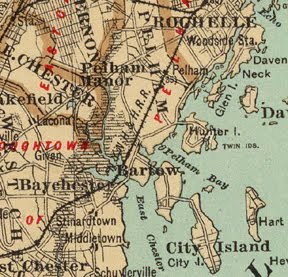 Despite the inaugural disaster, the City Island monorail system gave it another go a few months later, on October 12, 1910. On this, its second trip, the monorail hit an automobile, smashed it "to splinters" and injuring the driver and a passenger. They eventually seemed to work out the kinks, and the monorail began regular operation, although its irregular schedule and its inadequate connections to other lines never impressed local residents.
Its poor reputation may have held City Island back as a more popular place for recreation. An article on City Island from 1913 , while singing the monorail's praises, inaccurately reported that people had been killed in the inaugural accident.
Its fate was sealed in 1914 when the powerful Third Avenue Railway bought it up, opened a traditional trolley line alongside it and unceremoniously closed the monorail by 1919.
Map above from Historic Pelham. Top photo from Wiki Commons.