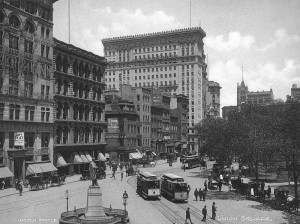 The photo above shows the southwest corner of Union Square in the year 1906. For many years prior, this corner was the scene of several brutal accidents between cable cars and pedestrians. When the Metropolitan Traction Company (now doing business as the powerful New York City Railway Company) ripped out the cable lines and replaced them with streetcar tracks in the early 1900s, New Yorkers hoped that troubles at the so-called 'Dead Man's Curve' would likewise diminish.
Broadway and 14th Street, during the late 19th century, has always been seen as "New York's Most Dangerous Crossing" (according to a Harpers Weekly article). But even in the new century, this morbid corner could never quite shake its reputation. "McGowan and Keenan Narrowly Escape Death At 'Dead Man's Curve" shouted an Evening World headline from February 15, 1906, reporting a serious accident here involving two major city officials, one (Patrick McGowan) the head of the Board of Alderman.
Getting rid of the cable cars reduced — but did not eliminate — the problems posed by the heavily trafficked, sharp corner along New York's most famous avenue. Grim accidents kept occurring here, such as this one in September 1908: 'Legs Are Crushed…at Dead Man's Curve'. One source posits an interesting theory: with the district to the west still considered Ladies Mile, New York's prime shopping district, male drivers (as they would have mostly been at this time) became distracted at this difficult corner by lively female shoppers.
Fortunately, it seems reputation can be the wonderful deterrent. While other cities would develop their own deadly traffic curves — and apply the nickname 'dead man's curve' to those unfortunate places — New York would see fewer accidents at Broadway and 14th Street in the following decades.
One author in 1917 remarked that the corner's "perils are now outdone on every street and road since the advent of the automobile." In 1930, all of Union Square would be redesigned as subway lines were constructed underneath, and traffic was helpfully reduced. Most shopping had moved to Herald Square and Fifth Avenue, so there were fewer alleged distractions anyway.
A witness to all the grim accidents at this corner was, oddly enough, Abraham Lincoln. His sculptural likeness had stood here since 1870, a work by Henry Kirke Brown, surrounded by an austere bronze fence. With the redesign in the 1930s, Lincoln was moved away from the bloody corner and moved into the northern end of the park, where he still stands today.
Photo from the New York Times