Every Monday I'll try and check in with the Mad Men episode from the night before and focus in on one or two historical references made on the show. Spoilers aplenty, so read no further if you don't want to know….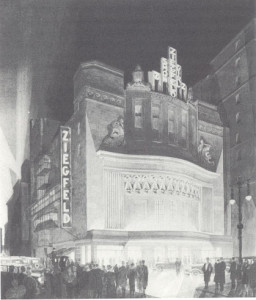 It's Christmastime, December 1964, and our favorite upstart ad agency, in order to impress their primary client Lucky Strike, throw a wild, boozy office party which, being Mad Men, naturally leads to all sorts of inappropriate work behavior.
Meanwhile, down at Don's Waverly Place bachelor pad, he meets his neighbor, a nurse from nearby St. Vincents Hospital — a bittersweet mention, as the hospital shut its doors earlier this year.
But it was one of the very first lines of dialogue that caught my attention last night, as Don's secretary Allison brings in a resume from a young woman (named Violet) whom Don had met — had flirted with, assumably — at the Ziegfeld Theatre. The line is probably a throwaway to set up a shocking hookup between Don and Allison later in the show, but it's a casual nod to an old theatrical treasure.
This isn't the lavish Ziegfeld movie theater at West 54th Street, because that wasn't built until 1969. Rather, this is a reference to the original Ziegfeld, built by Florenz Ziegfeld himself back in 1927.
The first Ziegfeld was just slightly down the street from today's Ziegfeld, at Sixth Avenue at W. 54th St. (That would place it just a couple blocks north of Sterling Cooper Draper Price's offices at the Time & Life Building.) A dazzling palace financed by William Randolph Hearst, the theater was hoisted upon the reputation of one of Broadway's most successful producers, the creator of the sexy spectacular Ziegfeld Follies. Unfortunately, with the Great Depression around the corner, the theater had few successes under Ziegfeld's personal direction (Showboat being one) before it transitioned into a movie house in 1933.
It returned to a legitimate Broadway stage in the 1940s, then became a recording studio for NBC's upstart television operations in the 1950s. However, by 1964, the Ziegfeld was back in a musical state of mind, in the throes of one final attempt to capture the glories of live theater.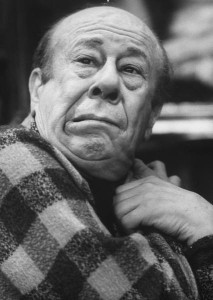 That February, producers dusted off the footlights and reopened with a vehicle for one of the old kings of vaudeville Bert Lahr (best known to film buff, naturally, as the Cowardly Lion of 'The Wizard of Oz'.) In 'Foxy', Lahr sang and generally hammed his way through a light musical (by Robert Emmett Dolan and Johnny Mercer) about gold prospectors in the Yukon. Critics loved it, and Lahr went on to grab the Tony Award for Best Actor, his final theatrical award before his death in 1967. Audiences, however, were less enamored; the show closed in April 1964.
At right: Lahr in 'Foxy', 1964. Pic courtesy LIFE
I'm not sure if Don Draper would have actually met anybody at the Ziegfeld in December 1964, as there were no shows running. Although perhaps NBC was still using it at this time as a soundstage; certainly Don might latch onto a script girl or production assistant while visiting a client filming a commercial.
The Ziegfeld tried one final time for glory the following year, in November 1965, with Anya, a musical variant of the story of Anastacia, the alleged last surviving member of the Russian royal family. The dowdy show was put out of its misery with a couple weeks, and the theater itself, sadly, was demolished the following year and replaced with s 50-story skyscraper, currently the home of international finance firm Alliance Bernstein.
For more information on Ziegfield and the theaters that bore his name, check out our podcast on the Ziegfeld Follies.
And speaking of coy New York City history references, I hope you caught a remark made on the AMC show 'Rubicon' following 'Mad Men'. Standing on one of the piers south of the Seaport, looking out at the East River, a character remarks: "My great-grandfather Horace started a ferry line between here and Brooklyn. It expanded to New London and south of Baltimore. Did pretty well for himself, until he was gobbled up by that prick [Cornelius] Vanderbilt."