PODCAST In the fourth part of our transportation series BOWERY BOYS ON THE GO, we finally take a look at the birth of the New York City subway. After decades of outright avoiding underground transit as a legitimate option, the city got on track with the help of August Belmont and the newly formed Interborough Rapid Transit.
We'll tell you about the construction of the first line, traveling miles underground through Manhattan and into the Bronx. How did the city cope with this massive project? And what unfortunate accident nearly ripped apart a city block mere feet from Grand Central Station?
ALSO: What New York City mayor had a little too much fun on opening day?
Below: An illustration of Alfred Beach's pneumatic tube, built in 1870 a short distance from City Hall ran under Broadway from Warren Street to Murray Street. Although it's little more than a footnote to the history of the New York City subway, it underscores that the technology was always available, even if public and political enthusiasm for such a project was not.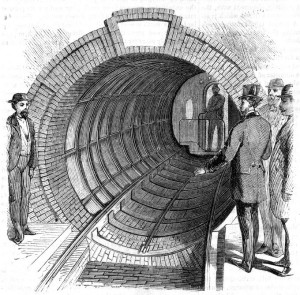 Abram Hewitt, mayor of New York in 1886, and an early proponent for an underground subway. (Pic NYPL)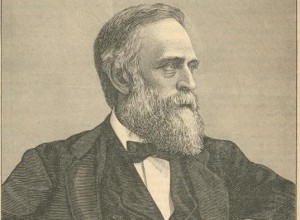 The cut and cover method chosen by subway engineers ensured that New Yorkers would be faced front-and-center with the daily slog of excavation and construction.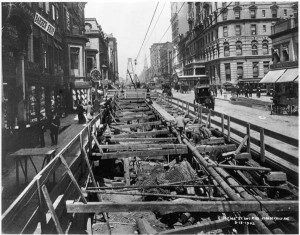 Forty-second Street during construction of the subway system, 1901.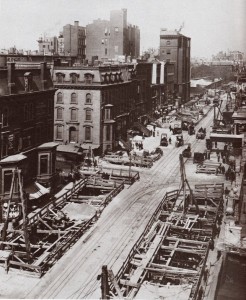 Mayhem during subway construction at Broadway and 134th Street! (NYPL)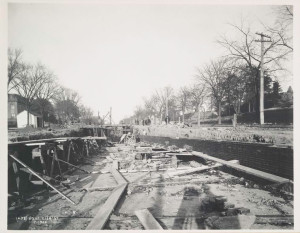 The plan for subway entrances, taking liberally from the design of kiosks in Budapest.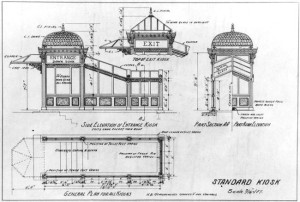 Thank this rich guy for your first subway, New York. August Belmont Jr., later known for his contributions to horse racing, founded the Interborough Rapid Transit Company to help operate the fledgling new subway system. (Pic LOC)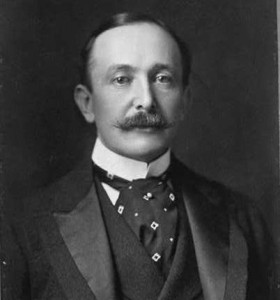 FOR MORE INFO:
We cannot begin to due justice to the birth of the subway in the way the good folks at the website NYSUBWAY.ORG have done. Hundreds of photos, original documents, and a wonderfully exhaustive list of stations, including many no longer in operation. Forgotten New York, of course, has several rich pages devoted to the subject.
And you definitely swing by the New York Transit Museum in Brooklyn, where you can actually sit in one of the original subway cars, among many, many more treasures of the original IRT.
Older Bowery Boys posts on today's subjects:
Alfred Beach: The Short Lived Thrill of the Windy Subway
Grand Central's Other Explosion
Know Your Mayors: George B McClellan
Know Your Mayors: Abram Hewitt