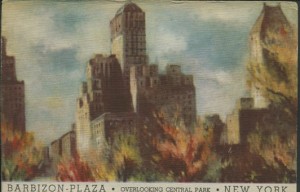 postcard from Old New York
With Mad Men making its return last night on AMC, myself and many other bloggers (like the fabulous Natasha Vargas-Cooper and the folks over at the City Room) are scouring the episodes for fun New York City history references. One of my favorite buildings in the city made an appearance (or at least a notable mention) when, after a blind date, Don Draper drops his actress lady friend off at her home at the Barbizon Hotel for Women at 140 E. 63rd Street.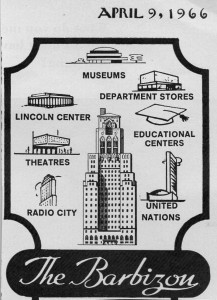 The Barbizon was a high-end complex for actresses and models, "a combined charm school and dormitory," "the city's elite dollhouse" according to Vanity Fair, offering single woman a luxurious address and a home base to pursue career and network. Some of its inhabitants, naturally, would go on to become major stars — Grace Kelly, Lauren Bacall, Cloris Leachman, Liza Minelli. Little Edie, of 'Grey Gardens' fame, lived here from 1947 to 1952 while trying to break into show business.
I personally love the dark grown, arch-heavy exterior, which the AIA calls a "romantic, neo-Gothic tawny brick charmer." The building opened to men in 1981 and, as the Barbizon 63, is still a rather swanky address.
The Barbizon, however, was not known for sumptuous living back in the day. Apparently, a lady was just supposed to be grateful to be admitted here. The rooms were "not luxurious," according to a biography on Kelly, "and a new girl's first impression might have been that her austere quarters resembled a convent cell or a house of correction." Kelly lived here as a teenager in 1947, quietly reading or having tea in the Barbizon's dining area.
The building was designed in 1927 by the curiously named design firm of Murgatroyd & Ogden, who specialized in brick hotels and apartment complexes with quirky flair. Two years later, their Hotel Governor Clinton opened across the street from Pennsylvania Station.
(New Yorker ad from 1966 courtesy Ephemeral New York)