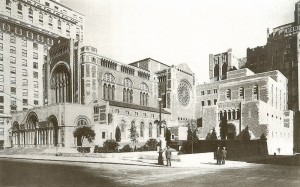 ABOVE: St. Bartholomew's Episcopal Church on Park Avenue in 1928, ten years after the first service was held in its scarcely completed chapel and eighty-two years before Angelina Jolie plays the title role in the action thriller "Salt" where she blows part of it up with explosives.
You can find a nicely written short history on St. Bart's at NYCAGO.com, the New York branch of the American Guild for Organists. (Picture above is from there as well) Why would organists be necessarily fascinated? Apparently, St. Bart's organ — which, er, is also blown up in the movie — is one of the largest in the world.
Before this lovely Byzantine palace existed on the newly developed Park Avenue, the congregation had an even grander home down at Madison Avenue and 44th Street (below), designed by James Renwick in 1872 and greatly modified by Stanford White, as a present from the family of Cornelius Vanderbilt. For the current structure, architect Bertram Goodhue was required by the church to use elements from the original building. I'll bet you can guess from comparing the photographs what some of those were.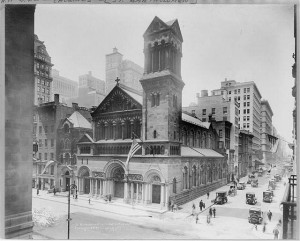 Photo above from the Library of Congress. Caption says its from 1918, but I suspect it's older than that.