A Grand Central-centric Rand McNally map of transporation options in 1918, "the subway, elevated and surface lines" available for residents of Manhattan, the Bronx and Brooklyn. (Sorry, Queens. Your borough would not be extensively served by New York's centralized train system for years.)
For a much clearer view, click into the picture or click here for a closer look. Or much better yet, visit the David Rumsey Map Collection, where this is from, to maneuver around the map in detail and look at other old New York maps in the collection.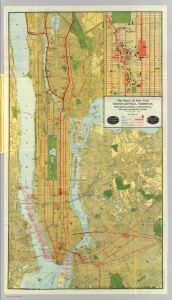 Again, the most striking detail of maps like this one is the fringe-like, uninterrupted cluster of piers along the west end.