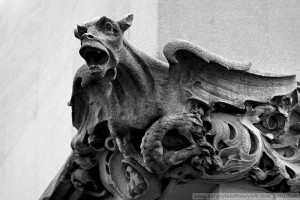 Above: a freaky face hanging from the former mansion of Sinclair Oil tycoon Harry F. Sinclair (today, the Ukrainian Institute at 2 East 79th St.)

Here's a great little diversion for your day — the photo website Gargoyles of New York, cataloguing all the grotesque grace adorning the nooks and corners of city skyscrapers, cathedrals and residences, as captured by some major zoom-lens action by photographer Michael G. Chan. Most of these are buildings you've probably walked by a thousand times without noticing these little creatures staring back at you.
Chan has been posting images of "gargoyles, grotesques and chimeras" there for several months, so have fun sifting through the archive of spooky, surreal faces.
Below: details from the New York Marriott East Side (525 Lexington Avenue) and the Church of the Blessed Sacrament (152 West 71st Street)