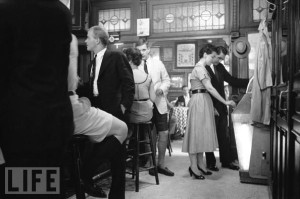 Every Monday I'll try and check in with the Mad Men episode from the night before and focus in on one or two historical references made on the show. Spoilers aplenty, so read no further if you don't want to know….
On last night's episode of 'Mad Men', they actually used a tavern that's still around and kicking — P.J. Clarke's on Third Avenue. Peggy had a strange altercation with her potential hip cat paramour, leading to her storming out of the bar.
The photo above, by Alfred Eisenstaedt, taken in 1953, demonstrates that the bar has always attracted trendy gentlemen, namely those in Bermuda shorts.
P.J. Clarke's, a well-preserved example of New York's Irish heritage, traces its history back to the late 19th century, when the original pub, now shaded by immense skyscrapers, was surrounded by shabby tenements. Its namesake, one Patrick J. Clarke, came along in 1902 and bought the joint from his boss ten years later.
Photo by Alfred Eisenstaedt, Life images