Photo by the Wurts Brothers, date unknown. Courtesy NYPL
Archibald Gracie admired the extraordinary vistas at Horn's Hook — overlooking the East River and the churning waters of Hell's Gate — and decided to build a house here. Little did he know what an extraordinary journey this comfy little Federal home would take over the next two hundred years.
After seeing a lamentable period as a refreshment stand and a place for sewing classes, Gracie Mansion became the first home for the Museum of the City of New York. Then, one day, Robert Moses came along and fell in love with it. Find out how the waterfront mansion became New York City's defacto White House for over 70 years. And why our current mayor chose NOT to live here.
An illustration from May 1808, looking across the waters at Gracie's mansion, newly built, and other country homes along the shorefront. In between them sits Hell's Gate, the treacherous confluence of waters that often sank vessels and made travel quite difficult. (Courtesy LOC)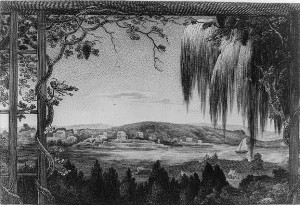 The land around the Gracie property was whittled away during the 19th century, and what remained was turned into Carl Schurz Park. The mansion, however, sat in disrepair and hardly of much use outside of storage and a basement refreshment stand. (Courtesy NYPL)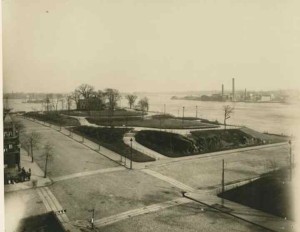 How it looked in 1942, before the mayors moved in…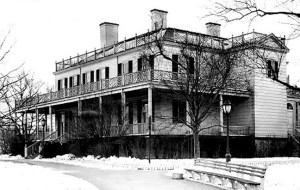 William O'Dwyer's new wife Sloan Simpson readies the Gracie Mansion living room for an event, or at least poses for a photo op. O'Dwyer was the second of nine mayors to live at Gracie.
Photo by Alfred Eisenstaedt, May 1950 (courtesy Life images)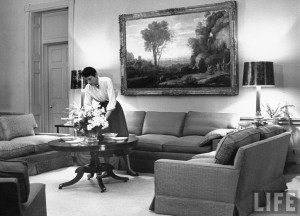 Certainly looks homey from here! A Federalist home is not complete without John Lindsay, G E chairman Gerald Phillippe, and Gov. Nelson Rockefeller sitting on the lawn. John's son ride by without notice. Photo by John Dominis, May 1968 (courtesy Life images)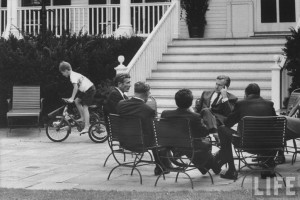 The front of Gracie Mansion today, although most guests use the side entrance. Gracie's still faces into lovely vista overlooking the East River, but it mostly obscured today by trees.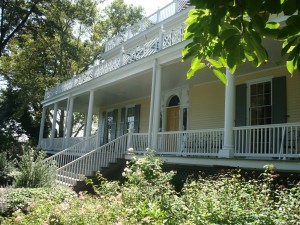 Visit NYC.GOV's website about Gracie Mansion to inquire about tours for individuals or small groups. If you have more than 25 people, you can actually have tea at Gracie Mansion. May King Van Rensselaer would have been proud. Our current mayor, by the way, lives here.