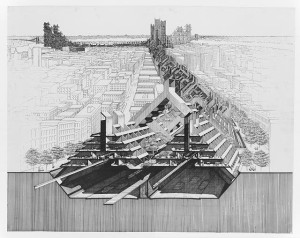 This is beautiful because it's not real: a cross-section of Paul Rudolph's cross-Manhattan proposal, looking east towards the two approaches consuming the Williamsburg and Manhattan bridges.
This is your last week to catch the fascinating and strange drawings of Paul Rudolph at the Arthur A. Houghton Jr. Gallery in Cooper Union. Rudolph drafted proposals for Robert Moses' devastating Lower Manhattan Expressway which would have cleaved the island with an elevated highway, linking the East River bridges to the Holland Tunnel.
Community opposition and New York's woeful financial crisis killed the Lower Manhattan Expressway project. Rudolph, a Bauhaus-influenced architect, was the rare master of the Brutalist style, as clearly evidenced in these drawings and mock-ups. Magnificent as stand-alone works of science fiction, Rudolph's ideas unveil nothing less than a complete reconstruction of downtown Manhattan, with crystaline multi-level towers of concrete that evoke ancient architecture and a heavy, dreary aesthetic firmly planted in the late 1960s.
Here are a couple more images from the exhibit, courtesy the Library of Congress. The show runs through this Saturday and also feature an actual model reconstruction of what LOMEX would have looked like. More information about the exhibit can be found here.
The Arthur A. Houghton Jr. Gallery
The Cooper Union (7 East 7th Street, 2nd floor)
Wednesday-Friday 12:00-7:00pm, Saturday 12:00-5:00pm
An overhead map laying out the course through downtown, eating up the Bowery, Chrystie, Delancey and Broome streets.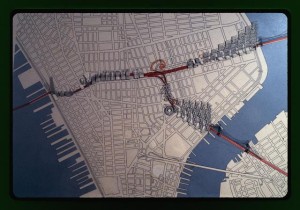 Rudolph's proposal didn't just include highways, but a massive network of transportation hubs, skyscrapers and apartment towers. LOMEX wouldn't just assist traffic flow; it would have defined downtown.