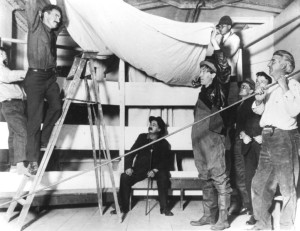 The Provincetown Playhouse, at 133 MacDougal Street, makes its debut in New York on November 3, 1916, with a series of plays that included Eugene O'Neills's Bound East for Cardiff. In the picture above, O'Neill (on the ladder) and his troupe prepare the stage for opening night.
The theater was ripped down by NYU to make way for a new law building; however, according to the Playhouse's official history page, a new theater is slated to be built nearby.
If you're ever in Provincetown, Mass., finding a good walking tour of the town's theater history is well worth the effort. The New York Playhouse was founded by playwrights and actors who gathered in Provincetown during the summer and debuts new works at their rickety, ocean-front stage.
Below: the outside of the theater, 1936, in a striking photo taken by Berniece Abbott. From this melancholy angle, you can tell the building was a former stable.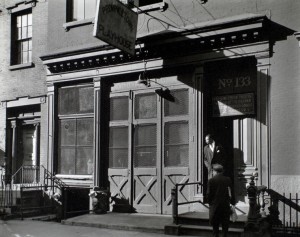 Photo (taken in 1936) by Berenice Abbott [source]