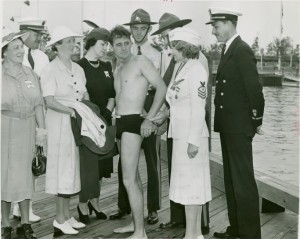 The picture above is not of actor James Franco. If captioning can be believed, this is the 'youngest veteran' of World War I, posing with other more appropriately aged and clothed veterans, next to some clearly satisfied women. (Notice what the lady in black is staring at.) Yes, he is handcuffed.
These pictures were taken in Queens at the Worlds Fair of 1939-40. The fair at Flushing-Meadows hosted many events throughout its duration honoring 'Veterans of Foreign Wars', although sadly the greatest war of them all was looming on the horizon.
I was not able to confirm the identify the scantily clad man in the photograph, but he might be Paul Iogolevitch, a corporal for the Russian army who allegedly enlisted when he was 13. [A 1919 Boys Life article wrote him an enthusiastic bio.] He wrote a book on his exploits and seems to have coasted on the 'youngest veterans' tag for, well, as long as the 1939-40 World's Fair, apparently. (If that's not Paul, I'm open to other guesses. But he looks like a hardy Russian man, no?)
If you liked that picture, you'll love this one. I have absolutely no idea what the context is. Caption reads '"Youngest Veteran" handcuffed on boat':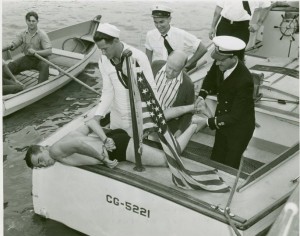 You can check out more of these unusual photographs in the New York Public Library archive.
I'm not sure if anybody will be handcuffed or wearing bikinis, but if you're interested in the '39 World's Fair, I suggest you check out a new photography exhibit opening at the Queens Museum of Art — Luis Márquez in the World of Tomorrow: Mexican Identity and the 1939-40 New York World's Fair. Marquez was the official photographer of the fair and advisor for the fair's Mexican Pavilion. The show opens this Sunday, November 14.