Once upon a time, in December 1900, there was a toy store on 67 Cortlandt Street with very, very sad display windows. The store's owner, Robert Ingersoll, was best known for his 'dollar watches' and, on the success of those, had branched out to include other items for sale, including a great variety of toys and novelties.
But he was not advertising wizard. Ingersoll tried to emulate the windows of the great department stores uptown, but try as he might, the items in his display just sat there, garnering little interest. The fire engines for play, the little trains and boats, toy elephants and clown dolls. People rushed by without a second glance.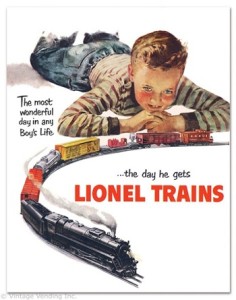 They caught no one's eye, until one day came along Joshua Cowen, a tinkerer and inventor with some training at the Cooper Institute and gifted with a wild imagination. He made small electrical trinkets at an office on 24 Murray Street, just a few blocks north from Ingersoll's little store, and reveled at coming up with unique ways to utilize electrical power.
Cowen saw the display of toys and immediately thought of an invention he was working on. He ran into Ingersoll's shop and proposed an idea to the shop owner. What if we could make something that the big department stores hadn't thought of yet? What if we grabbed the attention of shoppers by putting a little momentum into your window display?
Ingersoll liked the idea and soon installed Cowen's ideas among his merchandise — a rudimentary electric train, "resembl[ing] the maintenance cars…towed around the city by work trolley" [source], an ingenous little device that wove between toys along a small track.
It did the trick. In fact, the electric train, which Cowen sold to Ingersoll for four dollars, was then itself sold to a customer. So Ingersoll asked for six more. From there came demand from other stores, and Cowen suddenly had himself a new business, manufacturing the new toys under a brand taken from his own middle name — Lionel Trains.
From this odd start — built as an advertising ploy — Lionel Train become the leading name in toy trains and a perennial favorite of the Christmas season. In 1999, the Lionel train was named the 4th greatest toy of the 20th Century, beating all by crayons, yo-yos and Barbie dolls.
By the way, do you think Cohen, busily making his miniature trains above ground, knew that right underneath his office at 24 Murray Street was the sole tunnel made for New York's very first underground train from the 1870s — the pneumatic transit of Alfred Ely Beach?