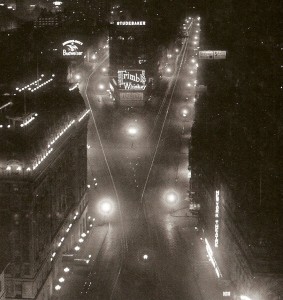 From atop the Times Tower, in 1904, another world lights up below.
The year that turned a ragged, uptown intersection into the place known as Times Square also brought an important work of advertising to the area, for a product that has been all but forgotten.
Oscar J. Gude was already a master of outdoor billboards and electric-light signs when, in 1904, his company installed a sophisticated advertisement for Trimble Whiskey, featuring two glasses in mid-toast nestled by the liquor's fancy logo. (The glasses don't seem to be on in the picture above.)
Gude had much better and more memorable ads throughout the city; his firm was perhaps best known for its Heinz pickle ad that hung above Madison Square. But the Trimble sign was placed on the north side of 47th Street, between Broadway and 7th Avenue, making it the first in a long line of dazzling electronic advertisements to be placed at this key intersection.
Times Square was already an advantageous place to hang things due to the sight lines created by long, even avenues. As one of the first electric signs, the Trimble name could be seen from almost a mile away down certain corridors. At night, the words 'Trimble Whiskey' could be seen reflecting into the new Times Square across the plaza. Theater goers leaving one of the new stages on 42nd Street stopped to take a gander at the glowing lights before boarding a trolley, or entering the crisp, new subway station.
As you can tell from the picture above, Trimble was quickly joined by a few other night lights. Bur for a time, only the street lamps, a couple small marquees and the haunting glow from the Hotel Astor were its competition.
Just a few years later, a bold corset advertisement would scandalously light that very wall. From the 1910 journal Printers Ink, the electric corset-wearer "stands out boldly against the night, at the spot where late a Trimble Whiskey sign has been wont to create thirsts by the thousand, which only the nearby gilded palaces could satiate properly."
As for the liquor itself, it reportedly originates from one George Trimble who "brought this brand over the Allegheny Mountains on a Conetogas wagon" in the 1820s or '30s. (The ad below dates its creation even further, to 1793.) It was distinguished by a green label and, despite its handsome advertisements, didn't seem to last but for a few years more.
Below, a print ad for Trimble, featuring their signature clinking glasses, from an April 1904 issue of LIFE Magazine. [from Magazineart.org}