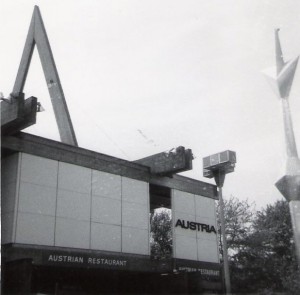 In 1965, at the completion of the World's Fair in Flushing-Meadows, many components like fountains, sculptures, lighting features and even whole pavilions were moved to other areas of the world. Most famously, the 'It's A Small World' collection of animatronics made their way west to Disneyland. The Spanish pavilion moved to St. Louis and became a hotel. Parts of the New England pavilion decorated a shopping mall in Danbury, Mass.

But the Austrian pavilion seemed to win the prize for best post-fair afterlife. The entire structure was moved to a ski resort in western New York, where its unusual angular design seemed to fit quite nicely as a remote, snow-covered lodge. The Cockaigne Ski Resort paid just $3,000 for the used building, but spent a great deal more (nearly $200,000!) to transfer it almost 400 miles to its new home.
Unfortunately, the great, kitschy lodge was destroyed in a fire a couple weeks ago. Images taken in the smoldering aftermath don't look pretty. The signature angle is completely gone. [Click here to see video of the blaze.]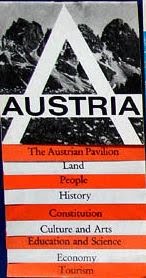 According to a dedication booklet from the fair, the pavilion's unusual triangle shape bear a symbolic purpose, "to symbolize Austria as a land of mountains and tourism, and constructed of wood to symbolize the richness of the timber and industry." I'll bet they're really regretting that wood construction now!
You would have received the brochure to the right upon entering.
The pavilion was always closely tied to the skiing industry; in fact Austrian-made ski products were displayed inside during the Fair's duration, serenaded by classical music from Austrian composers. And then there's this, according Jeffrey Stanton's excellent World's Fair website Westland: "Beneath the pavilion were other contemporary sculptures and a large photographic exhibit of the SOS Children's Villages, which were settlements for homeless children."
Below: the Austrian pavilion prominently sticks out on the strange World's Fair skyline. (epicharmus/Flickr)