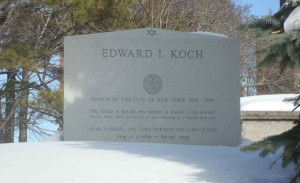 Koch's tombstone, bearing the inscription: "'My father is Jewish, my mother is Jewish, I am Jewish.' (Daniel Pearl, 2002, just before he was beheaded by a Muslim terrorist.)"
Ed Koch likes to get a jump on things. The former mayor, who served as mayor of New York City from 1978 to 1989, went ahead a couple years ago and got himself a plot and a gravestone all arranged at the uptown Trinity Church Cemetery. You can actually visit his grave there and pay your pre-final respects.
He recently recounted his decision for the Huffington Post [What's On My Tombstone, and Why], and it got me wondering if any other mayors were already buried at Trinity. (There's two.) That soon developed into an investigation into how many former New York mayors are still buried in Manhattan. (Answer: seven so far.) Which then led to the following admittedly macabre project before you:
Here is a near-complete list of final resting places of (almost) all the mayors of New York City, from 1783 to present, a catalog of the various cemeteries and burial grounds where these former leaders of the city have been entombed, buried or otherwise interred.
Okay, I recognize I've gotten a little morbid on the blog recently (what with this and this, for instance), but this survey shouldn't bum you out. The results of this little scavenger hunt actually say much about the priorities of New Yorkers past, the co-mingling of high society and politics and the rise and fall of egotism and pomp in the celebration of famous figures.
Most all these burial places are within a reasonable traveling distance of the city. Even the men who became mayors in the city's early days were often tied to the region by familial connections. The one who went the most far afield (Edward Livingston, who made his reputation in Louisiana) came back to his family estate in Rhinebeck at the end of his life.
Only a handful (like Livingston and Dewitt Clinton) ever held a political position more powerful than mayor. Even when they were mayors, many weren't very powerful at all, mere figureheads of strong political machines. Their business connections made some quite rich and internationally successful. But in the end, most came back to New York or the surrounding region.
I should preface by saying that I did not include any British appointed mayors from before the Revolutionary War. New York really became a new city on Evacuation Day 1783 when the British left the harbor, and the city's leaders faced fresh challenges as an American port. It truly was a city anew when the first post-British mayor (James Duane) took office.
And practically speaking, it's difficult to trace the final destinations of mayoral appointees from that far back anyway. Many left the colonies after their tenure. For instance, the British appointed mayor David Matthews, presiding over the city during the entire war (1776-1783), is buried somewhere in Canada, probably Nova Scotia.
There are four mayors I was not able to locate. I list those at the bottom of this post. Some of this data comes from single sources and thus, as with any crush of information like this one, if you see any errors, please email me or send me a comment. I will continue to update this as I discover more information.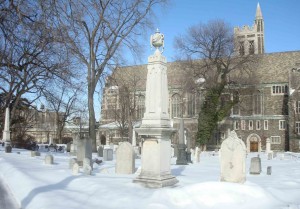 Above: A mighty obelisk to Fernando Wood, a man who once said, "The Almighty has fixed the distinction of the races; the Almighty has made the black man inferior, and sir, by no legislation, by no partisan success, by no revolution, by no military power, can you wipe out this distinction."
MANHATTAN
Dear ole Ed Koch will have some unique companions at the Trinity Church Cemetery at West 153rd Street, sharing the location with two of New York's most notorious office holders of all time. Fernando Wood (mayor from 1858-1858 and 1860-62), who famously recommended that the city secede with the South, is interred here, as is 'Boss' Tweed's most elegant right-hand man, Abraham Oakey Hall (1869-1872). Nice company, Ed!
Downtown Manhattan cemeteries keep a few mayors around as well. In the East Village, at the New York Marble Cemetery, the "oldest public non-sectarian cemetery" in the city, you'll find the remains of Whig representative Aaron Clark (1837-39), while the man who succeeded him as mayor, Isaac Varian, (1839-1841), resides down the street at its similarly named cousin, the New York City Marble Cemetery, along with sailmaker-mayor Stephen Allen (1821-24).
Philip Hone, known more for his observant diaries on New York than for his mayoralty (1826-27), gets a treasured spot at St.Marks-On-The-Bowery, entombed close to the vault of fabulous New Amsterdam tyrant-leader Peter Stuyvesant.
Finally, Trinity's original churchyard at Wall Street and Broadway — the final home to Alexander Hamilton, Albert Gallatin and Robert Fulton, among others — has one New York mayor among its population: the Revolutionary War hero Marinus Willett (1807-1808). The stone marking his vault, the size of a brick, is quite easy to miss.
BROOKLYN
To the surprise of few, the place which hosts the most deceased New York mayors is Green-Wood Cemetery, which became the burial place of choice for the upper class in the mid-19th century. But when it first opened in 1838, Brooklyn still felt a bit too bucolic for some. Other families shied from its less than sacred credentials. After all, Green-Wood would become a place for a picnic or a nice stroll on a summer's day; more pious folk preferred the reverence of a church yard.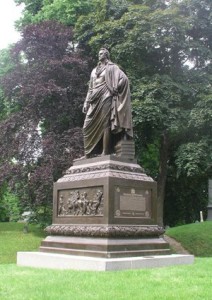 That is, until the body of former New York governor DeWitt Clinton (and mayor of New York from various periods: 1803-1807, 1808-1810, 1811-1815) was transferred from his resting place upstate to Green-Wood. Now a bonafide celebrity lay here: a child of the Founding Fathers' generation and the driving force behind the Erie Canal. Society felt comfortable leaving their loved ones next to such a charming man for eternity. (Right: Clinton's monument.)
A host of lesser mayors soon joined Clinton here. First came Andrew Mickle (1846-1847) and the anti-Irish mayor James Harper (1844-45), founder of a publishing empire.
Back-to-back mayors Ambrose Kingsland (1851-53) and shipping magnate Jacob Aaron Westervelt (1853-55) came along in the 1870s. Charles Godfrey Gunther (1864-65), the inspiration for the shortlived Brooklyn neighborhood Guntherville, is buried close to his more famous contemporary, publisher and reformer Horace Greeley.
The close ties between the Cooper and the Hewitt families remains even after death; you'll find Peter Cooper's son Edward Cooper (mayor from 1879-80) next to his brother-in-law and early subway proponent Abram Hewitt, the man who beat Theodore Roosevelt to become mayor from 1887-88. Both men were certainly acquainted with another Green-Wood resident, Seth Low, who was mayor of Brooklyn during Cooper's tenure and eventually the mayor of the consolidated New York City in 1903-4.
Finally, the mayor who survived an assassin's bullet to the throat, William Jay Gaynor (1910-13), has an odd marker in Green-Wood, according to the cemetery's website, "a large open granite circle, on the ground. It is a variation on the Victorian symbol for eternity–a globe or circle that has no beginning and no end."
Brooklyn is the borough with the most deceased New York mayors. And I'm not even counting Brooklyn's own mayors, from before the 1898 consolidation*! You can find two more in Flatbush at the Catholic Holy Cross Cemetery. I imagine they're very honored to have New York's very first Irish Catholic mayor, the business savvy William Russell Grace (1880-82 and 1885-86), as well as the Col. Ardolph Loges Kline, the man who served briefly (a little more than three months in 1914) after Gaynor succumbed from his long-festering bullet wound.
*Brooklyn's first mayor, George Hall, is buried at Green-Wood, as are several others.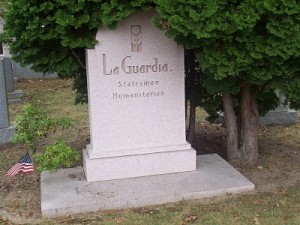 BRONX
Woodlawn Cemetery was developed over 30 years after Green-Wood, but a great many wealthy and well-connected New Yorkers preferred its serene and pastoral setting. It's the final home for businessmen (Rowland H. Macy), moguls (Jay Gould), authors (Herman Melville) and musicians (Miles Davis). And more than a few mayors.

The man sometimes considered the greatest mayor of all, Fiorello LaGuardia (1934-45), is buried here with a modest tombstone hidden under a bush. It makes a striking statement compared to the elaborate and monolithic vaults scattered around it.

Woodlawn also has the unique distinction of containing the burial of Robert Van Wyck (1898-1901), the first mayor of the five-borough New York area. And the last two mayors of pre-consolidated New York (when it was just Manhattan and a few areas of the Bronx) are also around here: the "striking looking" pro-Tammany Thomas Gilroy (1893-94) and stern, anti-Tammany William Strong (1895-97), best known for hiring Theodore Roosevelt as police commissioner.

There are 19th century industrialists galore at Woodlawn, so it's no surprise to discover Williamsburgh sugar king and three-time New York mayor William Havemeyer (1845-46, 1848-9) here, as is the man who served between Havemeyer's two terms, William Brady (1847-48).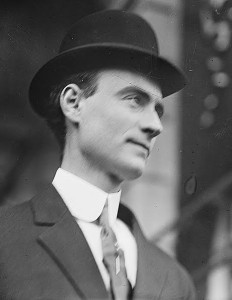 Finally, no visit to this quiet outlet in the Bronx is complete without searching out the 'boy mayor' John Purroy Mitchel (1914-17), an enigmatic figure in New York political history, who became mayor at age 35 and tragically fell out of a plane during military training before his 39th birthday. He's also honored with an unusual gold bust in Central Park near the reservoir. (At left: Mitchel as mayor)
Mitchel's stone has the curious inscription: "May His angels lead thee into paradise, which is thy home, for in Israel there is corruption."

Further south from Woodlawn you'll find Robert Morris** (1841-1844), a member of the famous Morris clan (as in Gouverneur Morris), buried in the family plot at St. Ann's Episcopal Church in Mott Haven, the oldest church in the Bronx.
**This is something I need to confirm. Morris' wife Ann Eliza Morris is buried at Green-Wood. There is a Robert Morris buried nearby, but the date of death does not match the former mayor's.
QUEENS
Calvary Cemetery in Woodside, Queens, is closely tied to the parishioners of Old St. Patrick's in Manhattan, who purchased a bit of farmland out in Queens County in 1846 to bury members of its large Irish congregation. In the last century, it was made famous for its afterworld connections to organized crime, both real (many famous mafioso are interred here) and imagined (it's in The Godfather).
Two very different mayors are interred here, both born in Manhattan and both closely aligned with Tammany Hall: New York's youngest mayor ever, Hugh J. Grant (1889-92), and Robert Wagner Jr. (1954-65).
Go a little ways east to Middle Village and to another Catholic grave site, St. John's Cemetery, where you'll find John F. Hylan (1918-25), a man of the railroad world who was pivotal in the creation of the IND, the first rapid transit line wholly owned and operated by the city.
Three other early 19th century mayors from well connected families are found in surrounding neighborhoods. At the small, colonial Grace Church Cemetery in Jamaica, meet up with good ole Cadwallader D. Colden (1818-21) next to a signer of the Constitution (Rufus King). Walter Bowne (1829-33), with deep family connections to the area, is buried at Flushing Cemetery, east of the home of his Quaker ancestor John Bowne.
But the most mysterious site is in Bayside. Here, at a small, sparsely wooded grave site, you can find a cluster of tombstones, many with the same name. The Lawrence Cemetery is on land owned by the family since the Dutch era. A small, bare obelisk marks the place where Cornelius Lawrence (1834-37) lays. He's the first man every popularly elected mayor; before Lawrence, the job was appointed or voted on only by the Common (City) Council.
LONG ISLAND
Beyond the borders of the city and along the north shore of Long Island, you can locate a few other resting places of past city leaders. From west to east we have: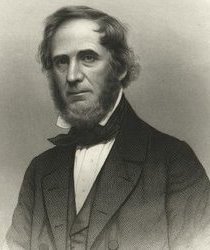 Daniel F. Tiemann (1858-60), "the paint king of New York" and a member of the Peter Cooper clan by way of marrying Peter's niece, is not buried in Green-Wood with the rest of Cooper/Hewitt dynasty. Instead you can find him in the old village of Hempstead, at Greenfield Cemetery. However I've not yet figured out why he would be interred all the way out here. (Tiemann at right)
John Lindsay, the 'fun' dashing, ambitious and often controversial mayor from 1966-1972, rests along a winding road near Cold Spring Harbor, in a small rustic cemetery near St. John's Church.
William H. Wickham (1875-76), an anti-Tweed Democrat and an early president of the formative New York Fire Department, was born in Smithtown and was returned for burial there in the town's small and very lovely cemetery.
Caleb Smith Woodhull (1949-51), who ineffectively looked on during the Astor Place Riots, was a landowner in Miller Place on the north shore and is buried nearby at Ceder Hill Cemetery overlooking the fantastic Port Jefferson. Fun fact: a member of the local historical society dressed as Mr. Woodhull during the burial ground's 150th anniversary last year. [There's even a picture!]
UPSTATE
A large number of former statesmen are scattered throughout the state, with a large concentration in the Hudson River Valley, close to the modern borders of the city.
For afficianados of Prohibition era politics, look no further than the Gate of Heaven Cemetery in Westchester Country, which opened in 1917 and quickly attracted some big name interments. One of the first was that of actress Anna Held, former companion of Florenz Ziegfeld. Other iconic New Yorkers like Babe Ruth, James Cagney and Conde Nast are also here.
Jimmy Walker (1926-1932), the posh 'Beau James' and symbol of New York's roaring '20s, died in 1946 several years after resigning from politics due to corruption charges. He's buried at Gate of Heaven under a tombstone he might have considered far too modest. Coincidentally, the two men who briefly filled the mayors seat after him, Joseph McKee (1932) and John O'Brien (1933), also followed him here.
Sleepy Hollow contains one of the oldest cemeteries in the country, the rustic Old Dutch Burying Ground, and within it, one mayor of New York, the brigadier general William Paulding Jr. (two terms 1825-26, 1827-29), who fought in the War of 1812. A short drive north is the lovely riverside town of Ossining and its 160-year old Dale Cemetery, the final home for former mayor and governor John Hoffman (1866-68), whose close associations with the Tweed Ring corroded his political career.
Due north, in Rhinebeck, you'll find the family vaults of the Livingston family, including that of Edward Livingston (1801-03), who reinvented himself after his tenure, becoming the U.S. Secretary of State under Andrew Jackson.
Other old mayors buried throughout the state include leather-maker Gideon Lee (1833-34) in Geneva, NY; Tammany pawn John Ferguson (1815) in Sullivan, NY; and father of the Bronx park system Franklin Edson (1883-84) in Menands, NY, near Albany.
Finally, New York's first post-British mayor, James Duane (1784-89), the namesake of Duane Street, also gave his name to an entire town, Duanesburg, near Schenectady. Duane had hoped the town would become New York's capital city, before Albany was chosen in 1797 (the year Duane died). Appropriately, he is interred here, at the rustic, old Christ Episcopal Church.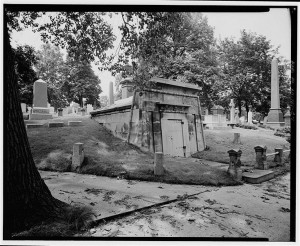 Above: the vault of George Opdyke, in Newark, NJ
OUT OF STATE
Finally, at least six former mayors are buried out of state but remain a short trainride away. For instance, the Sicilian-born Vincent Impellitteri (1950-53), moved to Connecticut after his tenure and is buried in a Catholic cemetery in Derby (Mount St. Peters).
In New Jersey, you'll find the vault of Civil War mayor George Opdyke (1862-63) at Mt. Pleasant Cemetery in Newark, and the unsuspecting former aide to Benedict Arnold and long-lasting mayoral figure Richard Varick (1789-1801) at the historic First Reformed Dutch Church burial ground in Hackensack.
The slight figure of Smith Ely Jr., may have been New York mayor from 1877-78, but he's New Jersey born, and he died there one hundred years ago, in 1911. Ely ruled the city the year Boss Tweed died, and he famously refused to lower the flags to half-mast for the Tammany Hall trouble maker. The former mayor and commissioner of Central Park is buried under an imposing monument on his family's estate, now the Ely Cemetery, in Livingston, NJ.
And finally, we come to two men whose final resting place is the furthest from the city, but its location is an honor indeed — Arlington National Cemetery. William O'Dwyer (1946-1950), actually ran for New York mayor in 1941. When he lost to LaGuardia, he enlisted in the army, becoming a brigadier general, thus making him eligible for burial at Arlington. (I guess they overlooked all that nastiness about his alleged mafia connections.)
George McClellan (1904-09) ruled the roost during the height of New York's gilded era and was there — literally driving the train — at the opening of the New York subway in 1904. George never fought in any wars, but his father George B. McClellan sure did. And it's that connection that puts him in the most prestigious cemetery in America.
AND STILL LOOKING FOR….
There are a few that I was unable to locate, and if you have any information regarding any of them, just leave me a note below and I'll update this article. I'm afraid I may never find the locations of lesser figures like either Thomas Coman (1868) and Samuel B.H. Vance (1874). Coincidentally, both men were interim mayors, serving only one month apiece.
But two full-term mayors have eluded me as well. One is Jacob Radcliff (1810-11, 1815-18), one of the first true Tammany Hall puppets. And believe it or not, information regarding the location of New York's first Jewish mayor Abraham Beame (1974-77), who just died in 2001, escapes me.

MAP IT!
I've put most of the locations above on a Google map. Most markers are approximate and in the case of some small towns, I've placed the marker in town center instead of the cemetery in questions — sometimes hard to find in a satellite view.

View Burial sites of New York City mayors in a larger map