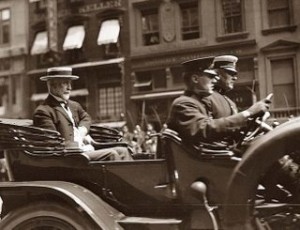 Our modest little series about some of the greatest, notorious, most important, even most useless, mayors of New York City. Other entrants in our mayoral survey can be found here.
Walk from Manhattan over the Brooklyn Bridge, take the first ramp off the bridge, turn right to Cadman Plaza, and you will run smack dab into a marble slab and the stoic bust (see below) of William Jay Gaynor, mayor of New York City from 1910 to 1913. Very few mayors are honored with statuary in this city, especially a mayor with so short a term in office. Gaynor's term represented a shakedown of traditional New York Tammany politics, a true bureaucratic reform movement.
But Gaynor is perhaps best remembered as being the only New York mayor to become target of an assassination attempt and to eventually die of his injuries.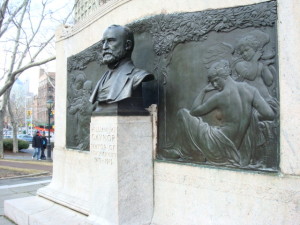 It wasn't supposed to play like this at all. Tammany Hall, entering the dusk of its influence by the early 20th century, thought they had a ringer with Gaynor, a state Supreme Court justice for 14 years chosen to run by still-powerful political machine. One of his opponents — William Randolph Hearst — an early admirer who warned Gaynor to publicly reject his corrupt Tammany sponsors.
Hearst needn't have worried. Once elected, Gaynor flummoxed his Democratic forebears by eshewing the usual political favors to Tammany cronies and actually hiring qualified individuals in chosen fields. His swiftly became no one's pawn.
Gaynor continued to live in Brooklyn — 20 Eighth Avenue in Park Slope, to be precise. On his first day of work, he actually walked from home, over the Bridge, and right into City Hall.
While vacationing on the ocean liner SS Kaiser Wilhelm der Grosse, a disgruntled city employee James J. Gallagher, fired from his job on the docks, took out his frustration on Gaynor, shooting him through the back of the neck. Gallagher claimed, "He took away my bread and meat. I had to do it." Really, James?
Unbelievably, a photographer for the New York world William Warnecke happened to catch the incident, which quickly became one of the most startling photographs in the short history of photo-journalism: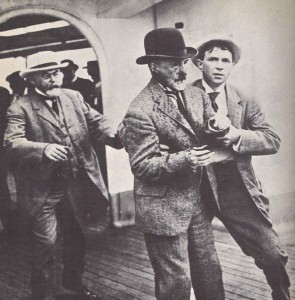 Gaynor recovered somewhat, although the bullet would remain lodged in his throat, and his entire term of mayor, he would remain weakened and haggard. He would even use the injury as a reason to get out of discussing delicate subjects, saying, "Sorry, can't talk today. This fish hook in my throat is bothering me."
The brush with death, paired with his remarkable house-cleaning at City Hall, quickly transformed him into a popular leader, with talk of even running for president. Tammany wouldn't help him with another term for mayor, naturally, but he was immediately nominated as an independent.
Somebody should have told Gaynor, however, that he should have avoided ocean liners. On Sept. 4 1913 he boarded the ocean liner Baltic for yet another oceanic vacation and six days later was found dead on a deck chair, his body finally giving in to lingering internal injuries. Curiously, Gaynor's would-be assassin Gallagher had died just a few months prior — at an insane asylum in Trenton, New Jersey.
The New York Press ran a further appreciationof the Gaynor monument itself. Or maybe you'd like to read his extravagent obit from the New York Times.