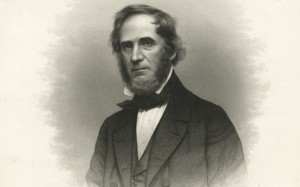 KNOW YOUR MAYORS Our modest little series about some of the greatest, notorious, most important, even most useless, mayors of New York City. Other entrants in our mayoral survey can be found here.
In office: 1858-1859
Once upon a time there was a village called Manhattanville, a small, originally Quaker community that planted itself between a bustling but still bucolic section of Bloomingdale Road (later Broadway) and the Hudson River. A remnant of the old village remains in the small neighborhood that shares its name today, north of Morningside Heights between 122nd and 135th streets on the west side.
Founded in 1806 the village grew due to its proximity to a major artery that led to the city of New York, but its fortunes really multiplied due to a developing port industry along the water. Together with its sister village Harlem, they grew into healthy rural communities.
In 1850s, the most powerful man in Manhattanville was Daniel Fawcett Tiemann. He was actually born down in New York, at a house on Nasssau and Beekman to German immigrants; he would later return to govern the city from City Hall, just two blocks away from his birthplace.
Daniel was the paint king of New York, a trade he learned from his father, working in the original Tiemann paint factory at 23rd and 4th Avenue (today's Madison Square park). He and his brother Julius eventually inherited the family business and moved it into the rural pastures of Manhattanville. Soon D.F. Tiemann & Company Color Works took up a dozen buildings and dominated the industrial character of the village.
Notably, Edward Leslie Molineux, later to be both a Union general and the father of convicted (and famously acquited) 19th century murderer Roland Molineux, was a clerk in Tiemann's firm and later a close political associate.
Tiemann had his eyes quite literally set on City Hall even at a early age. "I saw them building the present City Hall and we all thought that it was too far away from the business centre," he once recollected. Young Tiemann frequently reminsced of his glorious youth, skating on Collect Pond and later fishing in the newly dug canal.
BELOW Color me impressed: the Manhattanville paint empire of New York mayor Tiemann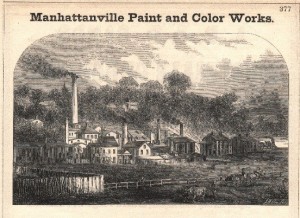 Luckily he had very strong ties to one of New York's most prominent families, the clan of Peter Cooper. In fact Tiemann married Cooper's niece and would eventually became a founding trustee in Peter's pet project, Cooper Union, in 1859. (Marrying into the Cooper clan is always good for one's prospects, as Abram Hewitt also found out.)
His family background, business acumen and solid nativist appeal recommended him for public office, particular in the years when corruption and chaos seemed to reign supreme in City Hall, namely the administration of wily Fernando Wood.
In 1857 a coalition of different parties united behind unblemished, teetotaling Tiemann, including the 'People's Union Party' (composed of merchants), the American Party (a nativist, anti-immigrant party) and even Tammany Hall — who had kicked Wood out just the year previous.
That October 1857, Tiemann handily beat Wood by 22,000 votes. It should be noted, however, that Tiemann's support was as much anti-Wood as it was pro-Tiemann. "If I succeed in the business of the Mayoralty as well as I have in making paint…I should be satisfied," Daniel proclaimed at his victory.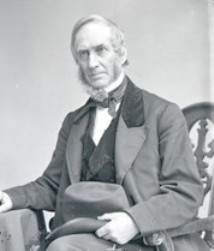 Tiemann inherited a nearly bankrupt city government, tapped dry with graft and unable to sustain itself. In fact, by October 1858, City Hall itself was actually put up for auction, and the wealthy Tiemman had to personally buy it (for $50,000!) and eventually gave it back to the city.
The new mayor did bring a modicum of reform to city government throwing out a few corrupt officials, including the laughably crooked street commissioner Charles Devlin. But Tiemann was fighting upwind and his political coalition immediately fractured.
Below: Tiemann's home in upper Manhattan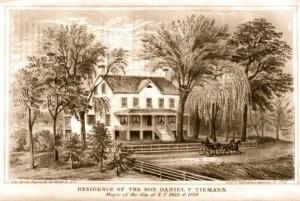 Much happened in the city under his watch, including further development of Central Park and the ground-breaking of new St. Patrick's Cathedral. But his greatest contribution is something we take for granted today. In a burst of common sense one night, Tiemann proposed that street names be attached onto lampposts for better visibility, as opposed to being stuck to the face of corner buildings.
His greatest claim to fame, however, was as one of the first voices that traveled the newly laid Atlantic cable, which connected North America to Europe for the very first time. "Mayor Tiemann to the Lord Mayor of London. Enthusiastic Celebraton of the Event of the Age. A UNIVERSAL JUBILEE. NEW-YORK IN A BLAZE. Grand Exhibition of Fireworks in the Park," boasted the Times headline.
Wood's supporters had never warmed to Tiemann and staged a comeback. And the paint king had even expended Tammany's good graces; in the election of 1859, they backed William Havemeyer who was mayor of New York before and would become mayor of New York again, 13 years later. But he would not become mayor of New York today. After keeping the seat warm for two years, Tiemann was replaced by Fernando Wood. It would be the start of a tumultuous tenure.
Tiemann would later become a state senator but his heart would always be in the family business. He settled for the rest of his days in a beautiful home (pictured above) built near his paint plant. He finally died in 1899 at age 95, a staple of New York life who had seen it from bottom to top grow from a port town into the biggest, most important city in the world.