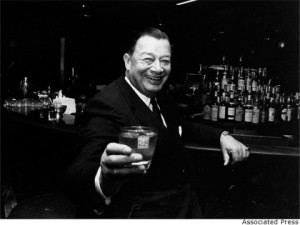 So make it one for my baby, And one more for the road
FRIDAY NIGHT FEVER To get you in the mood for the weekend, every other Friday we'll be featuring an old New York nightlife haunt, from the dance halls of 19th Century Bowery, to the massive warehouse clubs of the mid-1990s. Past entries can be found here.
NIGHTCLUB Toots Shor's Restaurant
In operation: 1940-1959; 1961-1971; 1972-73
They really don't make them like Toots Shor anymore. A stout, gregarious man, back-slappingly friendly with a child's face, Shor reigned over one of midtown's legendary martini scenes, his very own eponymous nightspot that attracted the most iconic mad men of music, movies, journalism, and sports. (In fact, Mad Men, the 50s Manhattan throwback TV series, is often set here.) Shor's was where the world's most famous alcoholics of the 50s and 60s tippled.
Toots is a bit of a tragic figure today in that he really became a self-branded institution of a simpler time, an old-school, double-breasted nightlife dominated by rich white men. When times became less simple, he foundered and faded.
This Jewish-born Philadelphian made his entry into New York nightlife in the most obvious way for a man of his frame — as a doorman to some of the city's most famous speakeasies during the dry 1920s. "A kid on the hustle," in his own words, Shor made 40-50 dollars a week in several places like the Five O'Clock Club and the Napoleon Club, where he would "flatten a guy a day, maybe two." Along the way, he befriended celebrities and journalists alike; most importantly he also made connections with the influential mafia figures who owned the night spots.
He eventually moved on to a management position in 1936 at a popular tavern owned by Billy Lahiff (158 W. 48th Street), acquiring from his famous clientele the confidence and ease of a celebrity himself. He even married a Ziegfeld girl, nicknamed Baby, who was a virtual pixie next to him.
(By the way, just three years earlier, Lahiff's served the last meal to Fatty Arbuckle, the embattled silent film star who died in bed that night.)
Shor moved on to his own establishment in 1940. Toots Shor's Restaurant (51 W 51st Street) would be an instant success, ruling for two decades as the neighborhood lounge for some of New York's biggest lushes. Most associated with the early years was Jackie Gleason, who would spend the day there drinking, go home and take a nap, then return to Toots for the nighttime crowd.
BELOW: Toots and Jackie and the ground breaking of his second restaurant in 1960 (Bob Gomel, LIFE archives)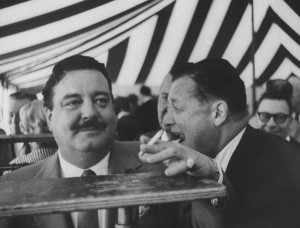 You could eat at Toots — it was a restaurant — but, as the 1996 documentary Toots makes clear, it was all about the "whiskey and beer."
Shor would befriend many of his clientele, calling them 'crum-bums' upon entry, joking with them, creating an inner circle for some of the most closely observed men in New York. In particular, the restaurant was quite popular with sports icons (and, by extension, sports writers); for this reason I would describe Toots as one of New York's greatest sports bars ever. It didn't need memorabilia on the walls; the memorabilia just walked in through the front door.
If you were a Yankee, you came to Toots. Mickey Mantle was his most recognizable regular; Joe Dimaggio came in for awhile, until Shor called his wife (you know, Marilyn Monroe) a whore, a slight Joe never forgave.
Bing Crosby and Frank Sinatra would frequently enter to applause. Supreme Court justice Earl Warren would enjoy a drink at one end of the bar, while the most notorious gangster in New York, Frank Costello, would be dining on the other side.
When it wasn't filled with icons, regular businessmen would hit Shor's for a lingering martini lunch. Few places in the city fostered such a tightly closed fraternity.
Mickey Mantle and his bespecled wife Merlyn, not exactly the most loving of couples, pull it together for master of ceremonies Toots Short, at right (1965, photographer John Dominis, courtesy of Life archives)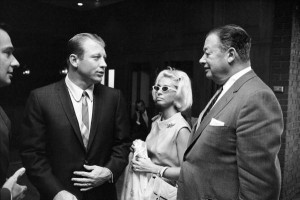 Along the way, Shor became quite well-known, a television star even. (That 2006 documentary features footage from his appearances on 'What's My Line?' and 'This Is Your Life'.) However his penchant for gambling and comping thousands of dollar of beverages for friends took a toll on his finances. Shockingly, he announced in 1959 that he had sold his restaurant. By the next year, it was demolished.
He tried again in 1961 at 33 West 52nd Street, closely copying his old formula. Some of his old friends even came back. But this type of nightlife was swiftly fading from view in the city. How could Shor coexist in a neighborhood with places like the Peppermint Lounge enticing people with the vibrations of counter-culture? It didn't help that Shor continued to have financial problems; his celebrity and mafia connections couldn't help him this time.
His new restaurant was unceremoniously closed in 1971 due to income tax evasion. He tried once more in October 1972 in a smaller place on 54th Street; it was closed within a year. Strapped for cash, Shor then sold his name to the Riese Corporation, who opened a small chain of Toots Shor bars throughout the city. Today, Riese operates such chains as TGI Fridays, Dunkin Donuts and Taco Bell. The bars had nothing to do with Toots, and what's a Toots Shor establishment without Toots? Eventually the notoriety of his name would soon fade and even those knockoffs would close.
Shor died in 1977, living with his family at the Drake Hotel at Park and 56th Street.
Luckily, Shor is fondly remembered today as a vestige of old midtown Manhattan, a starched precursor to today's more colorful party promoters. I highly recommend the Toots documentary, lovingly made by his granddaughter. Anybody interested in 1950s New York would be remiss not to spend a few minutes over a stiff martini this weekend in his memory.
By the way, his real name? Bernard.