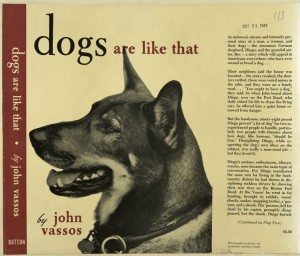 Yes, they are: from a book by noted New York graphic designer and dog breeder John Vassos. [source]
Hickory, the winner of last night's Westminster Kennel Club dog show, might seem to embody a refreshing return to normalcy when it comes to dog names. In fact, the deerhound's full name is a bit more exotic — Foxcliffe Hickory Wind.
When I was kid, I had dogs named Snoopy, Max and Dutch. Clearly, these common, pedestrian names would never have got these pets into the storied Westminster Kennel Club dog show, where the finest of animals are given the most extraordinary and absurd names.

The Westminster show seems like it might have connections to the British Isles, but in fact the annual canine carnival got
its start in New York City
in December 1877, amongst a group of wealthy sportsmen who gathered at the Westminster Hotel. An old train shed owned by musician Patrick Gilmore (and formerly run by P.T. Barnum) became their first home. When it changed owners and its name — to Madison Square Garden — the dogs and the purple ribbons remained, tagging along through the Garden's various locations.

Below: St. Bernards on display at the Westminster show in 1908. No representative of that breed has ever won Best In Show, but they've gotten close
many times
.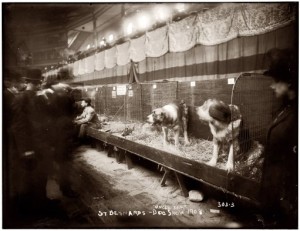 Thousands of dogs have graced the competition floor, sparring for group prizes and the coveted Best In Show. For some reason, these prized dogs are given wildly strange, humorous or even mysterious names. These are not rock stars, action heroes or drag queens; they are Westminster's Best In Show. Amongst the hundreds of victories won at Madison Square Garden over the years in a variety of sports, these are some of my favorites of the most unusually named winners in its history:

1907-09: Warren Remedy — I wrote about this dog last year, a female fox terrier from New Jersey who won three years in a row, "
the fantastic bitch whose major achievement has yet to be duplicated.
"

1910 Sabine Rarebit — Animals were frequently referred to by the kennel in which they were raised. The first male winner came from Sabine Kennels in Orange, Texas.
1911 Tickle-Em-Jock — Not every dog went the dignified route. This terrier was a butcher's dog in London and was literally scouted out by an English dog breeder. No word on whether he barked with a cockney accent.
1917, 1920 Wycollar Boy — The most extraordinary comeback in the dog world, this terrier crawled back to the winner's circle three years after his first win, at a relatively old six years of age.
1922 Barkentine — Named for a type of ship but sounds like a Westminster pun.
1924 Bootlegger — In the age of Prohibition, Bootlegger really did beat out other dogs named Home Brew and Tom Collins.
1925 Governor Moscow — From Pittsburgh, not Moscow, he was the first Pointer to win in the history of the show.
1934 Spicy Bit — Lived up to her name when, after her victory, "she slipped her leash and frisked across the ring as saucily as though her name were Gyp." [
Time
]
1940, 1941 My Own Brucie — With war ensuing, people clung to their pets ever tighter. Thus, Brucie, a 'silky cocker spaniel', was proclaimed as the most popular dog in America by
Time Magazine
.
1951 Bang Away of Sirrah Crest — The most influential boxer in the history of dogs (if breeding websites are to be believed), Bang Away won a total of 121 Best in Shows worldwide and even caused a small riot at the one show he lost. The judge that delivered that negative verdict was permanently banned from the Kennel Club.
1965 Carmichael's Fanfare — But for some reason, the Scottish terrier's nickname was 'Mamie'.
1975 Sir Lancelot of Barvan — A lovely sheepdog, Sir Lancelot made the cover of Sports Illustrated after his win:
'Big Itch In the Dog World'
1987 Covy Tucker Hill's Manhattan — Despite the name, the Westminster's first German Shepherd winner and the
'winningest German Shepherd in history'
has a Long Island owner, and the Covy Tucker Hill Kennel is in California.
1999 Supernatural Being — A tiny, successful Papillon along the dog circuit, his official name is actually quite average compared to his parents (Supercharger and Denzel Fortuneteller). Supernatural Being would also answer to 'Kirby'.
Thanks to William Stifel's 'The Dog Show: 125 of Westminster' for some of the info.