Here's a look at the Westminster Kennel Club Dog Show from exactly 100 years ago. The Saint Bernard pictured is named Uncle Sam.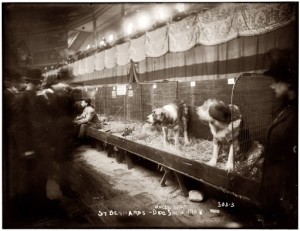 For a look even further back, here's a New York Times article from 1904 regarding a Bronx Kennel Club dog show. It too features Uncle Sam (most likely the same dog).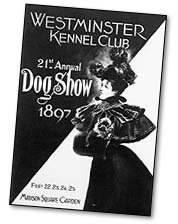 Despite its slight continental air, the Westminster Kennel Club originated here in New York City in 1877, at the Westminster Hotel, a popular spot for a cigars and scotch for New York's gentlemanly set.
According to William Stifel's book "The Dog Show, 125 Years of Westminster": "They couldn't agree on the name for their new club. But finally someone suggested that they name it after their favorite bar. The idea was unanimously selected, we imagine, with the hoisting of a dozen drinking arms."
A prototype of the Westminster dog show was held at the Philadelphia Exposition in 1876 — America's first World's Fair. Two other New York City institutions also got their start there : the Statue of Liberty (her head was displayed in an effort to drum up funds and enthusiasm) and the Brooklyn Bridge (the Roebling brothers debuted their wire roping).
The first 'real' Westminster dog show was held the next year at P.T. Barnum's Gilmore's Garden, which was eventually changed to the name Madison Square Garden, its first of four locations in the city. Strange to say, but the dog show is Madison Square Garden's longest running sporting event.
Befitting a sport entrenched in New York City history, it's no surprise that the Empire State Building was lit in the Westminster's signature colors of yellow and purple for the last two nights.
And finally, the Westminster made its own kind of history last night with awarding the best in show to a beagle for the first time ever. Congratulations Uno!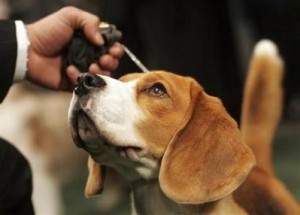 We talked about the Westminster Kennel Club in our podcast about the history of New York City dogs, with some pictures of Westminster's early days.