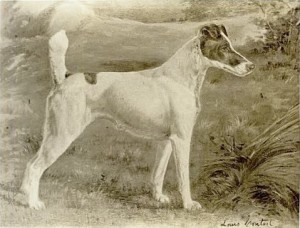 STARS OF MADISON SQUARE GARDEN: Warren Remedy
LOCATION: MSG II
The picture above is of the Katharine Hepburn of dogs, Warren Remedy, the only dog to ever win the Westminster Kennel Club Dog Show three times in a row. Despite the name, this smooth-haired Fox Terrier canine superstar was female.
She also kicked off the storied Best In Show competition, which was held for the first time in 1907 and chosen from the winning dogs in other categories by a panel of ten judges. The annual dog show, of course, predates all incarnations of Madison Square Garden, with the first one on May 8, 1877 — easily the oldest continuing sporting event in New York City.
Warren Remedy, "the fantastic bitch whose major achievement has yet to be duplicated" according to Harold Nedell, was owned by the appropriately named Winthrop Rutherfurd. She's the only dog to win Best In Show in successive years, and given the highly political nature of the dog show today, I can't imagine this ever happening again.
According to the Times, "The little white twenty-month-old son of Sabine Resist … was handed out of the ring to the attendant who had handled him [sic] since his birth on Mr Rutherford's New Jersey farm and was wild with exultation. He hugged the little champion ecstatically and hurried off to the dong's bench, where he and the winner held an improptu reception that continued most of the afternoon and evening."
The New York Tribune gives a fuller desciption of the little girl's charms: "Warren Remedy is practically true to type. She is tan marked, with strong head, keen expression, good outline and grand ribs. She was in fine coat also, and should be worthy of winning in the best company in England."
Apparently, the spirited dog barked herself hoarse — although that was more likely a bit of anthropomorthism by the Tribune reporter.
Her owner Rutherfurd, with kennels in Allamuchy, NJ, got in the Fox Terrier breeding business quite suspiciously; their first terrier was from an English lot stolen in Liverpool and smuggled over. It is unclear whether Warren Remedy is from this pirated lot.
Above illustration by Gustav Muss-Arnolt, a New York illustrator who actually specialized in dog portraits, drawing over 170 portraits for American Kennel Club Gazette.
Previously: My article "Who Let The Dogs In?" on the first dog show. And for the truly adventurous of you, my very first solo podcast, from way back in 2007 — the Famous Dogs of New York.