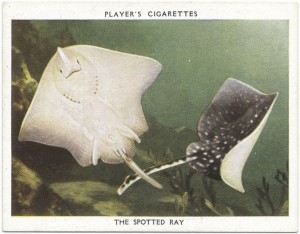 From a pack of old, aquatic themed 'cigarette cards', naturally [
NYPL
]

Yesterday
the Wall Street Journal reported
that a Canadian developer may bring a luxury, multi-floor aquarium to a new skyscraper in Times Square. The proposed aquatic amusement, to feature "sharks, rays, penguins, otters" and a pirate museum, would liven up
the freshly built
, so-called
11 Times Square
, at the corner of 42
nd
and 8
th
Avenue, a corner once famous as a place for
picking up male hustlers
.
This would not be the first time an aquarium graced midtown Manhattan. In fact, the first aquarium in this region was also a privately run endeavor — The Great New York Aquarium, located at 35th Street and Broadway, the latest escapade by William Cameron "W.C." Coup, a former employee of P.T. Barnum.
Coup knew something about spectacle as manager of the earliest incarnation of Barnum's greatest contribution — P.T. Barnum's Great Traveling Museum, Menagerie, Caravan, and Hippodrome, soon to the alleged 'Greatest Show On Earth', the first travelling circus. The show would soon make its home in Manhattan in 1874 on the site of an old train depot off Madison Square, a block that would later be built up to become the very first Madison Square Garden.
The Great New York Aquarium, glorious and rather tragic (for the aquatic captives, that is). Pic courtesy NYPL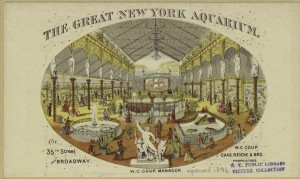 For his next feat, opening on October, 11, 1876, Coup would bring the oceans to Manhattan. Of course, 35th Street was hardly "midtown" then; Central Park had only been completed a few years prior, Macy's was still on 14th Street, and Longacre Square (future Times Square) was still the smelly home of horse stables and carriage houses. But theaters and concert halls, newspapers and restaurants, all of New York society was booming from Union Square to 34th Street, and thus Coup's aquarium would have been nicely situated.
This was no ordinary aquarium. Like many museums and other 'well-meaning' spectacles of the time, the Aquarium mixed the outlandish with the intellectual, with libraries and laboratories on site, as much to give the joint credibility as for actual research.
The centerpiece was a gigantic tank fit for a whale; too bad the whale died in transit, sitting empty for opening day. Displays for porpoises, sharks and sea lions were scattered around it, swimming in small tanks with painted backgrounds featuring the creature's native flora and fauna.
Like aquatic displays before it — such as the basement of Barnum's American Museum — the environment was probably not very healthy for sea creatures. However, Coup did feature a set of fish hatcheries for display, possibly the first such nurseries ever featured in a public aquarium.
Coup's venture was an immediate success, and he soon opened a smaller outlet in Coney Island. He was not long for the Great New York Aquarium however; after financial disagreements with his partner, animal importer Henry Reiche, Coup left to pursue other bizarre projects, including something called The New United Monster Shows.
Reiche, for his part, had made quite a name for himself in animal trade. He and his brother Charles had a pet store at 55 Chatham Street (that street is now Park Row today), equipped with a backyard pen for lions, monkeys and even gnus — all for sale to private collectors. (This helps explain the founding of places like the Central Park Zoo, formed from discarded animals left in the park.)
Reiche gnu, er, knew his animals, but he didn't know business. An expensive endeavor to maintain and to import new creatures, Reiche attempted to draw audiences with theatrical performances and even pigeon shows set among the glowing tanks. Nothing worked, and so in 1881, the aquarium's contents were auctioned off. I can't imagine the creatures displayed here benefited well from this.
Of course, New York City would get its very first official aquarium many years later, in 1896, with the opening of one at Castle Garden (the once and future Castle Clinton). When Robert Moses drove it out of here in 1941, the city aquarium took up residence in Coney Island, where it remains today.