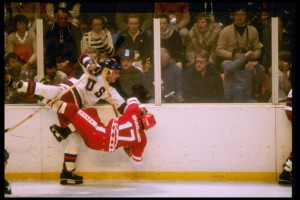 STARS OF MADISON SQUARE GARDEN: 1980 Russian Olympic Team
LOCATION: MSG IV
Nope, that headline is not from an alternate timeline. Thirty years ago, the most memorable moment in US Winter Olympics history occurred on February 22, with the victory of the US men's hockey team against its athletic and ideological rivals from the Soviet Union. What's lost in the mists of history is that these two teams has played each other two weeks earlier, in New York, at Madison Square Garden — and the Russians iced the US team.
In promotion of the 1980 Olympics that year, in Lake Placid, NY, the two squads played an exhibition round for fired-up New Yorkers on February 9th, 1980, just three days before the opening ceremonies. Despite an openly hostile crowd, the Russians handily beat the young team of American athletics, 10-3.
According to sportscaster Al Michael, "Anybody who left Madison Square Garden that day thought to themselves: 'The Soviets will win every game in the Olympics, take home the gold medal, and never be challenged.'"
Of course, in the game that really counts, the American team swept aside the Russians in Lake Placid, 4–3, in what has been called 'the greatest sports moment of the 20th century."
The Sheila Variations has a nice, full write-up of the MSG battle
Picture from the Lake Placid match-up, courtesy World Hockey