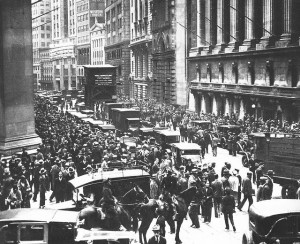 Pandemonium on Wall Street during the stock market crash of 1929

A special illustrated version of our podcast on the New York Stock Exchange(Episode #63) is now available on our NYC History Archive feed. Just hit play and images of the things we're talking about appear on any compatible media player.
We look at the early days of New York finance and the creation of the New York Stock Exchange, beginning with Alexander Hamilton, some pushy auctioneers, a few inconvenient panics and a sycamore tree.
And find how this seminal financial institution ended up in its latest home — that beautiful, classically designed George Post building, with a marble goddess on top who was literally too heavy for her own good.
ALSO: Why did the early fathers of American finance call their first meeting place the Tontine Coffee House?
We recorded this in the fall of 2008 in the midst of the financial crisis, and that framework very obviously informs the show. It's a history show within the context of an historical event itself!
Download it for FREE from iTunes or other podcasting services, or you can listen to the cleaned up audio version right here: New York Stock Exchange
Below: An Irving Underhill photo of the New York Stock Exchange on Broad Street, next to the Wilks Building (demolished in 1920, which you can see here) Photo date unknown